Marguerite and Steve Poreda: MSU degrees provide firm foundation for fulfilling careers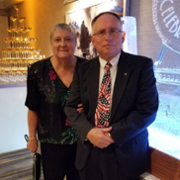 Fifty years ago, two undergraduates from Massachusetts received their bachelor's degrees from MSU's College of Natural Science.
The two met during freshman orientation, were married during their junior year and raised their first child while living in Spartan Village as seniors. They received their B.S. degrees in 1969—Marguerite in microbiology and Steve in mathematics.
Their support and respect for each other, and their passion for their careers, has led to a full life, satisfying careers and the desire to give back to their alma mater.
After graduation, Steve and Marguerite Poreda moved to Newport, Rhode Island, where Steve entered Navy Officer Candidate School. In 1970 the family moved to Athens, Georgia, where Steve attended the Navy Supply Corps School—during which time their second child was born. Their third child was born while the couple was in Rota, Spain, where Steve was stationed as a Navy officer at the time.
While Steve completed his active duty in New Orleans, Marguerite studied biochemistry at the University of New Orleans (1973-1975) and then went on to medical school, receiving her M.D. in 1979 from the LSU Medical Center School of Medicine in Shreveport. She was one of only 8 women in the class of 98 students.
"I was told more than once that I was 'taking a man's spot,'" Marguerite added.
After a residency in anesthesia in Boston, she began her medical career in 1982 at Southwood Community Hospital in Norfolk, Massachusetts, where she served in several roles—including chief of anesthesia, medical director of several units and vice president of the medical staff—until 1994.
She then retrained by completing another residency, this one in psychiatry, and then two fellowships in geriatric and forensic psychiatry, and was an assistant professor at LSU, the University of South Florida and the H. Lee Moffitt Cancer Center & Research Institute in Tampa, Florida. She is currently the correctional psychiatrist at the Collier County Naples Jail Center in Florida.
After earning his M.S. in systems management in 1978 from the University of Southern California (USC)—through an extended campus program in Louisiana—Steve's career as a software developer included positions in varied industries including professional sports. He is currently self-employed part-time as a systems analyst/programmer and consultant.
Both plan to retire soon, but it won't be easy for this couple who has spent more than 40 years in their respective fields doing what they love.
"There is so much work to be done. We are sorely lacking in mental health resources," Marguerite said. "If you really have a passion for it—which I do—you don't want to stop working."
Because of their successful career paths, they have been able to give back to MSU through financial support for the Honors College and the College of Natural Science.
"The Honors College was perhaps the most significant aspect of MSU that enabled us to succeed in furthering our post-MSU education," Marguerite said.
"Although our graduate degrees from LSU and USC are directly responsible for our professional success and lifestyle, neither would have been possible without our undergraduate degrees from MSU," Steve added.
Published March 21, 2019