Mark and Connie Hanson: Insightful alum gives back to NatSci students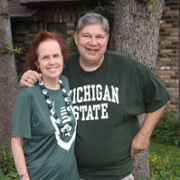 "Better one, or better two? Is this clearer, or about the same?"
These words are familiar to anyone who has ever sat in an optometrist's chair. They also helped steer Mark R. Hanson, O.D., into his career. At five years old, he was diagnosed with nearsightedness and color deficiency and was fitted for his first pair of eyeglasses. At age 17, he began wearing hard contact lenses. By age 19, he knew he wanted to be an optometrist.
After receiving his bachelor's degree in physiology (with honors) from MSU in 1978, he earned a bachelor's degree in physiological optics and his Doctor of Optometry degree from Pennsylvania College of Optometry in 1982.
The quality of the courses I took at MSU allowed me to exempt out of several courses in optometry school, which made my four years of optometry school easier,saidHanson, who opened his private practice in Arlington, Texas, in 1986.
At MSU, I began to realize the importance of basic research," added Hanson, who relates an example he learned from eye care.
Hard contact lenses were invented after WWII. Soft contact lenses did not come on the scene until the early '70s—but the real soft lens research goes back to the 1960s, he said. At that time, a chemist in Prague, Czechoslovakia, was trying to find a rubber-like material that would work for artificial joints.
He found a bio-compatible material that didn't work so well for artificial joints but had a brainstorm about using this new material for the manufacture of contact lenses, Hanson said. The first soft contact lens was developed in 1972. "This is an example of how basic research leads to applications in many other often unexpected directions.
He notes the many MSU connections he has experienced throughout his career. Hanson was mentored by an MSU alumnus during one of his first optometry jobs; hired an MSU graduate from as an associate optometrist in his practice in the 1990s; and mentored an MSU graduate who is now an optometrist in Colorado Springs. He is a past president of the Dallas-Ft. Worth MSU alumni club. Now, he and his wife, Connie, are planning to establish an endowed scholarship to help people like me, kids who are first in their family to go to college, kids who go to learn with passion and could use some support.
Hanson, who sold his practice last August, remains active in the Texas Optometric Association, serving on their political action committee. In 2014, he received their prestigious William D. Pittman Leadership Award.
During his retirement, he has become more active in politics—which he developed a passion for while at MSU. Texas recently passed a new scope of practice law for optometry with some help on the grassroots level from Hanson.
He also has some advice for new students coming into the College of Natural Science (NatSci). "Many freshmen and sophomores haven't decided on a major; but in NatSci, there are so many opportunities that it's easy to find something you're interested in and have a passion for, and to become successful after graduation.
Published June 2021