Mark and Sandy Ehlert: Honoring their mentors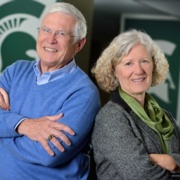 Mark (B.S., microbiology, '75) and Sandy (B.A., special education, '75) Ehlert met and fell in love while they were both workers in Hubbard Hall. They married during spring break of their senior year and after graduating they started careers in medical manufacturing and teaching, respectively.
"I started out in pre-med, but calculus quickly did me in," Mark recalled. "I knew I wanted to have a career in health, and microbiology seemed interesting, so I switched my major. I still had to take calculus, but it wasn't as cutthroat."
Now retired, Mark was employed for a number of years for Baxter Healthcare, among other companies, in quality and regulatory affairs, working with injectable drugs, IV solutions and medical devices. His career took the couple and their family across the United States and to Singapore for a time, but neither forgot their roots or their mentors.
"We both grew up in blue-collar families – Sandy is from Rochester, Mich., and I'm from Madison Heights – and we both see our philanthropy as a way of saying thank-you and giving back for the great gift we received from Michigan State," Mark said.
The Ehlerts have endowed three scholarships, all of which pay tribute to their mentors:
The Irish Family Teaching Endowment supports students in the College of Education and the College of Natural Science during their fifth year while they're student teaching.
The GRAM Endowed Scholarship offers four years of support to a minority student majoring in a STEM (science, technology, engineering and mathematics) discipline.
The Frank Peabody Microbiology Student Research Fund supports undergraduate or graduate research.
"Just about everyone in my family was a teacher, so the Irish Endowment is a way to honor them," Sandy explained.
The GRAM Scholarship is named for the couple's four grandmothers: Gertrude, Ruth, Anna and Marian.
Frank Peabody was a long-time microbiology faculty member and former director of undergraduate studies in the department.
"Dr. Peabody passed away about 18 years ago – he had a big influence on me and offered me opportunities to participate in research projects as an undergraduate student," Mark said. "He was a great mentor and I'm very proud that the scholarship honors him."
Both Ehlerts believe that their philanthropy is a good way to invest in the future of both MSU and society.
"We've met some of the scholarship students," Sandy said, "which is always a thrill. It's nice to hear what they want to do and what they're studying."
"We're big proponents of STEM and we see our donations as a way to give the best and brightest a chance to achieve their goals," Mark added.
Home for the Ehlerts is now the relatively small town of Munising, on the southern shore of Lake Superior in the Upper Peninsula. The five-and-a-half-hour drive to campus may seem daunting to some, but the couple has football season tickets and makes the trek down regularly throughout the year.
"With the launch of the new capital campaign, we're very encouraged that MSU is focusing on faculty and student endowments as much as new buildings," Mark said. "Academics are very important to us and it's rewarding to see MSU recognized for its outstanding academics as well as its other strengths."