Marquita Tillotson: Zoology internship program critical to career success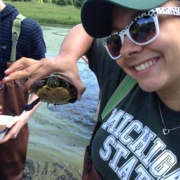 I came to Michigan State University in fall 2011 with the goal to work hard in my classes and make myself marketable to employers. The following summer, I traveled overseas to participate in the zoology department's Behavioral Ecology of African Mammals study abroad program.
Knowing that one zoology-related experience would not be enough to make me a competitive candidate for jobs after graduation, I enrolled the following summer in field courses at MSU's W.K. Kellogg Biological Station (KBS).
While at KBS, I was asked to stay an extra five weeks to assist with research projects in Associate Professor Jennifer Lau's lab. This would be my first research experience, but I could not afford housing because the position was unpaid. With the help of KBS, I was awarded a Noall Scholarship in Biological and Environmental Science to cover my housing expenses. Not only did my research experience in the Lau lab teach me the importance of troubleshooting and collaboration in science, but it also opened my eyes to field research as a career and, more importantly, that science is exciting!
With the assistance of my academic advisor, I had the chance to complete a semester-long internship with the Toledo Zoo's Education Animal Center in the fall of 2013. From that experience, I aspired to work in an AZA [Association of Zoos and Aquariums]-accredited zoo, particularly the Toledo Zoo. To do so, I would need to continue building my resume so that I would have more to offer employers—especially experience with non-mammals.
Through hard work and initiative, I was able to secure research positions working with zebra finches in Professor Juli Wade's lab and three-spined sticklebacks [fish] in Associate Professor Janette Boughman's lab upon returning to campus. However, only the Wade lab offered a paid position. Once again, I had to seek funding to keep both positions and afford my living expenses. I heard about the College of Natural Science Undergraduate Research Support Program through the Boughman lab. In the application, I described my research project and emphasized that, without the scholarship, I would be unable to continue working in the Boughman lab, despite its valuable contribution to my career trajectory. One month later, I was awarded the funding for my research. The scholarship also provided me with the opportunity to present my research project at MSU's annual Undergraduate Research and Arts Forum in spring 2014.
I remain active in both labs and occasionally volunteer at the Toledo Zoo. After graduation, I may have to complete another unpaid internship at the Toledo Zoo to be eligible for an employment opportunity there. This will be difficult because student loans kick in six months after graduation. I may decide to pursue a paid Aviculture & Environmental Education Internship at the Livingston Ripley Waterfowl Conservancy in Litchfield, Conn., to gain additional experience and refine my communication skills. Obtaining and financing these opportunities has been a challenge, but these experiences are critical to my career success in today's job market.