Mary and Craig Rosenberg: Supporting "an inspirational place"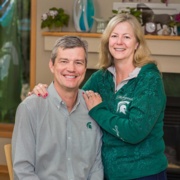 A neonatal intensive care and maternity registered nurse, Mary Rosenberg (B.S., physiology, '82) works 12-hour shifts caring for newly born infants – many of whom have special needs – and educating their parents.
"It can be very intense," she said. "Some of the babies are born addicted to drugs or have other issues. My goal is to give the parents enough support and information so they can go home feeling confident and knowing where to get help if they need it."
Rosenberg loves her job and said she can't image doing anything else. But when she first enrolled at MSU, she envisioned a very different future for herself.
"I applied to vet school, but wasn't accepted," she explained. "I considered med school but didn't pursue it and got my degree in physiology. After graduation, I worked in an environmental chemistry lab for 10 years or so doing bioremediation in Traverse City. When the cleanup project was finished, I was out of a job. So 10 years ago I became a nurse."
Her husband, Craig (B.L.A., landscape architecture, '85), had a similar somewhat circuitous route to his current position as a portfolio manager/financial advisor for The Peninsula Group at Morgan Stanley. Originally an economics major at Kalamazoo College, Craig transferred to MSU nine months after meeting Mary while she was visiting a friend at K-College. When he finished his landscape architecture degree, the couple moved to Colorado where both initially struggled to find jobs.
"I was laid off two or three times in about year and a half," Craig explained, "and had gotten to know a couple people at a local investment firm. I thought the work was interesting and I had some background in economics, so I started working there and very much enjoyed it. I use my landscape architecture degree at home."
Both Rosenbergs always intended to support MSU when they were able and both make donations of time as well as money. Craig is president of the Grand Traverse Area Alumni Club and Mary is a College of Natural Science Capital Campaign volunteer. She's also becoming more involved in the alumni club
"MSU is a very inspirational place," Mary said. "I don't think the public sees how much the university contributes to business, to knowledge, to technology development."
Part of Mary's loyalty to and appreciation of MSU was kindled by Keith Demarest, a former pharmacology and physiology professor who now works for Johnson & Johnson.
"I was cleaning rat cages to make some extra money and trying to decide what I wanted to do after I didn't get into vet school," Mary said. "Dr. Demarest took me under his wing and gave me the opportunity to do research. I published a paper with him. He went above and beyond what was required. So I want another student to have that same opportunity – to have a professor reach out to them and show them all the interesting things there are to do at MSU. The knowledge that our donations are supporting that is very gratifying. We're supporting what we believe in."
"I echo what Mary said," Craig added. "If our donations can help someone, open a door for a person or improve or change someone's life, then that's very gratifying.
"I'm also very impressed with the increased awareness of MSU around the world," he continued. "MSU is at the forefront of a number of initiatives and it's nice to know that our donations are helping to further the Spartan cause around the world."