Matt Moll: Looking back, giving forward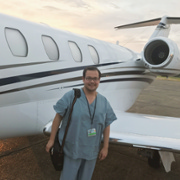 The bachelor's degree in physiology that Matt Moll, M.D., earned in 2007 at Michigan State University put him on the successful career path he is currently following.
"My MSU education was absolutely crucial. There's no doubt that it was key for me," said Moll, an associate physician at Brigham and Women's Hospital in Boston, specializing in pulmonary and critical care. He is also a postdoctoral fellow at Harvard Medical School.
"My undergraduate time at MSU is when I started being rewarded for intellectual curiosity, where it was encouraged," he said. "That's when I realized I really enjoyed science. It wasn't a real passion for me until it was ignited by the professors at MSU."
It was the challenge of critical care that drew Moll to the field while he was in medical school and during his residency.
"With critically ill patients, the principles of physiology guide a lot of what we do. A physician has to really understand what's happening with the patient and make critical decisions. Critical care fits with my undergraduate training," said Moll, who completed his M.D. in 2013 at Penn State. "My undergraduate experience helped me get into medical school, do well in medical school and continue doing science in addition to medicine throughout my career."
That's why he feels it's important to give back to his alma mater. One way he does that is by contributing to the Thomas Adams Memorial Scholarship fund, which was established in 2012 by the late physiology professor's wife.
"Tom Adams was in charge of the undergraduate physiology program, among many other roles," Moll said. "He was a phenomenal mentor to me—and many others."
Adams was the one who recommended that Moll join a lab to gain research experience. He recalls that in Ron Meyer's lab, he worked on mechanisms of muscle fatigue using functional MRI to look at how the brain controls the muscle during fatiguing contractions.
"That experience was amazing, and it made me really love science," Moll said. "It's a big reason why I am still doing research today, in addition to practicing medicine."
Moll hopes to "pay it forward" by mentoring young physicians in the Boston area. Specifically, he would like to help MSU alumni who are beginning their internships or residencies have an easy transition to the Boston healthcare system.
"Tom Adams is one of the inspirations for me doing this," Moll said. "I've been lucky to have multiple mentors along the way. I think we all have the responsibility to mentor the people below us, partly to give back but also because otherwise, how are people going to contribute to our field?"
Moll said there are very few MSU-affiliated physicians at Brigham. "We need to change that," he said.
"I always knew I was lucky to be at Michigan State," he continued. "But I didn't realize how unusual it was to be in such a good environment with people at all levels. At MSU, there is a culture of helping each other that I didn't recognize as being rare at the time. But looking back, I realize it's really quite unusual and quite remarkable."
Published October 4, 2019