Morgan Fleck: "Blame it on the Intern"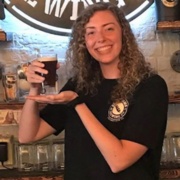 Morgan Fleck is a senior pursuing a double major in microbiology and environmental microbiology, and a double minor in beverage technology and musical theatre. Fleck, who is also an MSU Honors College student, hails from Sherman, Ill.
Ever since I chose microbiology as my major, I've been racking my brain trying to figure out what direction I wanted to take my career path. I picked microbiology on a bit of a whim, barely even knowing what it was. Since then, I have fallen in love with the science and everything that it encapsulates, but I was still unsure of the area of microbiology on which I wanted to focus.
I was fortunate enough to be able to work in microbiologist Ashley Shade's lab for my first two years at Michigan State. My time in the lab helped me to realize my passion for environmental microbiology, and I added an environmental microbiology major while in my sophomore year. I was also able to obtain an internship at an environmental testing company in my hometown in the summers after my freshman and sophomore years. While I immensely enjoyed my work at both places, I still felt that there was more to explore in the field of microbiology.
I knew that microbes could be used to ferment food and beverages, and as I have always found the fermentation process interesting, I decided to look deeper into it. I chose to add a beverage technology minor because I wanted to learn the processes behind making alcoholic beverages.
Since I learned a lot through my previous work experiences, I decided to find an internship. However, due to COVID-19, my plans almost got ruined. Instead of staying in Michigan, I went home to Illinois and reached out to a few local microbreweries to see if they would be willing to let me come in and observe a brew day. Buzz Bomb Brewing Company got back to me, and they were nice enough to invite me to be their intern for the summer.
I had no idea what to expect going into the internship, but I absolutely fell in love with the brewing process. I was fortunate to witness the brewing process of many different beer styles, and I even had the privilege of creating my own beer recipe. This was especially fun because I really got to dive into the creative process at the heart of brewing. I created an American Amber Ale that I named "Blame it on the Intern." I chose to go for a honey caramel flavor that I achieved by using specialty malts.
The most interesting part of the process, as a microbiologist, was picking out a yeast strain. Buzz Bomb orders their yeast from a company based in Chicago that has a wide range of options from which to choose. Yeast strains are specialized based on beer style, and then each strain can help to create or highlight specific flavors in the beer. I chose an ale yeast that, flavor-wise, would allow the malt to shine through. I absolutely love the finished product, and so far, I haven't had any bad reviews.
I truly enjoyed learning the ins and outs of the business, and I think I've found my future career!
Publish date: Sept. 15, 2020