Nakoa Po: Advice underscores importance of undergraduate research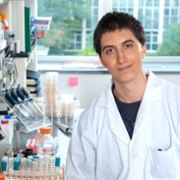 Nakoa Po hails from Haiku town, Maui, Hawaii. He is a junior majoring in biochemistry and molecular biology/biotechnology/genomics and is a College of Natural Science Dean's Research Scholar .
When I first arrived at MSU, I knew I wanted to get a biochemistry degree and spend my life researching the microscopic worlds around me, but as a first-generation college student, I was sorely lacking in information as to how to make that happen.
After bungling my schedule, fumbling my first semester's GPA and generally feeling foolish, I had a life-changing conversation with my general chemistry professor. Not only did he show me the ropes to his class and lay the foundation for my academic success in many classes since, but he also shared his opinion about the most important activity an undergraduate can partake in: working in an on-campus lab.
Deciding to take his advice, I reached out to the chair of my department with a list of research interests. He got back to me a few days later with good news. There was a professor at MSU studying human life extension (my long-time passion), and he was interested in taking a new undergraduate student on board.
The rest, as they say, is history. My entry to the lab was slightly delayed by the coronavirus pandemic, but my work started minutes after I arrived. It soon became clear that I had not been hired for my strong dishwashing skills and uncanny ability to refill 20 pipette tip racks an hour; I was there as a contributing member of the lab expected to do his part in advancing some of the most exciting new fields in microbiology. I've since seen a handful of experiments through to completion using techniques and equipment miles beyond my major's curriculum. Although classes and labs have given me a strong set of foundational skills, being able to do research at MSU pushed those skills to their limits and immersed me in my dream field in a way no in class experience ever could.
I've been working in the lab for a year now and have had the chance to do everything from using high-tech dyes and lasers to investigate the cells I study at the highest resolutions to planning out a set of experiments and refining them until they actually work. My confidence in my work in and outside of class has grown tremendously, and I've begun to view my time at MSU and the world at large in ways I could never have imagined a mere year ago.
To any undergraduate reading this: Take my advice. Spend some time working for a lab you're interested in, even if it's only volunteering for a few hours a week. Your classes will introduce you to a host of new skills, but the lab is where you'll truly master them and make them your own.
Publish date: January 18, 2022