Nikkita Ngalande: The prize in the process (Q&A)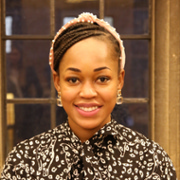 Nikkita Ngalande is a 2019 alumna of the Michigan State University College of Natural Science's Actuarial Science Program . She was named a Rhodes Scholar from her home country of Zambia in 2019 and is currently a DPhil (Ph.D.) student at the University of Oxford's Mathematical Institute. Ngalande's area of research is in stochastic analysis and mathematical modelling of financial markets.
Why did you choose Michigan State University for your undergraduate work?
I chose Michigan State University for the relentless spartan spirit that resonates with and draws most of us to the banks of the Red Cedar. I wanted to be in an environment where I could challenge myself academically while having the opportunity to develop myself as a leader. I also had a full-ride scholarship, which sweetened the deal!
How did MSU help prepare you for what you are doing now?
MSU not only offered me a strong academic foundation, it also offered me the opportunity to delve deeper into topics that fascinated me. As part of the Honors College, I was able to take Honors classes that allowed me to go beyond the standard curriculum and have a deeper understanding of the topic. I also worked on a number of honors research projects, which was a great opportunity to learn critical research skills.
As an MSU alumna, do you have any advice to share with people who are thinking about attending MSU?
If you are considering MSU, do it! Michigan State is a great university! Some of my fondest memories, greatest accomplishments, and dearest friendships all started at MSU! The opportunities that exist at Michigan State are endless. During your time at MSU, be a curious learner, utilize the abundant resources you've been afforded, pursue all the opportunities that align with your goals, and challenge yourself beyond the classroom. Studying at MSU is not just about graduating with a degree, it's also about contributing to your community and having the courage to be a leader in whichever area of influence you are in.
Has there been anyone who has stood out as a mentor to you during your learning journey? If so, can you explain how this relationship helped shape decisions about your learning journey?
I don't think I can pick one. I am fortunate to have had many great mentors throughout my learning journey. During my time at MSU, I was extremely fortunate to have wonderful professors and mentors who recognized my passion for learning and invested their time and resources into ensuring I thrived both inside and outside the classroom. There are so many stories of kindness that immediately spring to mind when I think of all the generous people that poured into my dreams and visions while at MSU. One distinct commonality that exists among all of my mentors is that of passionately applying one's talents and skills for the good of others and I try to embody this in my learning journey as well as in my everyday life.
What led you to apply for a Rhodes Scholarship?
The reason I applied for the Rhodes Scholarship was because I was eager to expand my understanding of how the world works and wanted to be a part of a community of people from all around the world who are dedicated to pursuing excellence, character, and service at the highest level in their individual passions. For me, I saw the scholarship as a way that I could maximize the impact I'd be able to make in the world.
How has working as a Rhodes Scholar influenced your learning journey?
Being a Rhodes Scholar is both an immense privilege and a great responsibility. As a Rhodes Scholar, I have the opportunity to research topics that interest me both academically and personally. Being a Rhodes Scholar also means that I am part of a community of scholars who are pursuing their passions and expanding the dimensions of our understanding of the world together – which makes it a truly unique experience! Having this life-changing opportunity is also a responsibility to make the most positive impact in the world that I can.
The scholarship also comes with a legacy that is deeply embedded in imperialism, colonialism, and antifeminism. Being a recipient of the scholarship and being from Zambia, formerly Northern Rhodesia, the colony founded by Cecil Rhodes, I have had to contend with this legacy. I am often asked why I would accept the scholarship. My answer is that, in accepting the scholarship and studying at Oxford, it is a means to right the wrongs of the past and a way to contribute back to that very fabric of society. I hope to do my part to contribute back to my region and people, who were exploited to build Cecil Rhodes' wealth.
What extracurricular activities do you participate in and why? How has your involvement in these activities helped you in your continuous learning journey?
One of my current roles is serving as a director of Africa IFI, which is an organization that was started by a group of current Rhodes Scholars with the goal of utilizing our networks in Oxford to channel funds to organizations on the African continent that are working to create solutions to the challenges faced by underserved populations. I chose to be a part of this organization because it aligned perfectly with the work that I did in undergrad, where I served as the vice-president of the African Student Leadership Association (ASLA). Serving in this role has allowed me to transition from ideating macro-scale solutions to the myriad of challenges faced by the African continent to being part of creating micro-scale solutions through the community-based organizations that we fund.
What do you like to do in your free time?
I am an avid reader who enjoys the outdoors and loves to travel. I am an amateur photographer and CrossFit enthusiast. I thoroughly enjoy playing board games, solving puzzles and doing quizzes. Most recently, with the elimination of Covid restrictions, my free time has been filled with exploring the United Kingdom, visiting museums, attending talks at Oxford, and hanging out with fellow Rhodes Scholars.
What do you know now that you wish you knew during your time at MSU?
I wish I had known that the fruits are in the labor and the prize in the process. Ever since I can remember, I was often told to work hard, and I took that to mean working towards academic or non-academic achievements. That constant desire to extract the greatest future value out of our time often blinds us to the reality that, in fact the greatest value is in the process.
Publish date: March 28, 2022