Pam Fraker: Pioneering professor pays it forward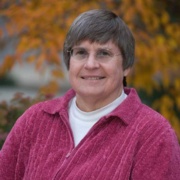 As a young girl growing up in the tiny town of Williamsport, Ind., her desire was to become a farmer—not a pioneer. But today, she is recognized as a pioneer in the field of nutritional immunology.
Pamela J. Fraker, a University Distinguished Professor Emeritus of biochemistry and molecular biology (BMB), holds the honor of being the first MSU woman faculty member to be named to the National Academy of Sciences, one of the highest honors that can be accorded a U.S. scientist or engineer.
Fraker earned her Ph.D. in microbiology from the University of Illinois and completed her postdoctoral work at the University of Illinois Medical School in Chicago in immunology.
When she joined the MSU faculty in 1973 there was no formal immunology program. "They needed an immunologist to help them with aspects of biochemistry," Fraker said. Today, nutritional immunology is a well-established field that is of interest to a growing number of researchers.
"Malnutrition's effect on immune defense applies to malnourished children around the world, but it also applies to people right here in the United States with chronic diseases," Fraker explained. "It's difficult for someone with advanced cancer, renal disease, liver disease or Crohn's disease, for example, to keep their nutrition up. Their immune systems suffer and they often succumb to pneumonia or sepsis."
Understanding firsthand the importance of undergraduate research opportunities and financial support for students in need, in 2010 she established the Pamela J. Fraker Undergraduate Scholarships.
"I came from a family of very modest means, and tuition at Purdue was quite expensive," Fraker said. "I did really well on the national scholarship tests; I was able to get a full fellowship. I attended Purdue for four years and I never paid $1 in tuition. Now, I want to pay it forward."
Nine students have received the Fraker scholarships so far—three each year since 2011.
"They have all been incredible young people. And each with a need," she said.
But two of the students especially stand out to Fraker—Raeuf Roushangar and Keshabi Chapagai.
Roushangar was born in Oman to an Iranian father and an Egyptian mother.
He left Egypt in 2008 and traveled alone to Grand Rapids, Mich. Roushangar said, "I never thought that one day, the kid who had endured hateful and discriminatory actions for nearly two decades; came from a very poor Baha'i family that is socially, culturally, economically and educationally disadvantaged; traveled alone to the U.S. with $600 and two bags of clothes; was homeless and at night walked the streets, would one day pursue a Ph.D.!"
He plans to focus on medical research.
Chapagai spent most of her life in a Nepal refugee camp. She watched people die from ordinary childhood diseases because of lack of medical care. Now a BMB senior, she plans on attending medical school and dedicating her life to a career in medicine.
In addition to establishing this undergraduate scholarship fund, Fraker has gifts planned for MSU from her estate, 80 percent of which will provide scholarships for undergraduate students in the life sciences in the College of Natural Science.
Although she officially retired in 2012 after 39 years in BMB, Fraker's impact at MSU and around the world continues. She offers support and assistance to MSU faculty members who are seeking funding for their research, and she mentors and advises former students who are looking for jobs or postdoc positions. She also consults with Purdue University and provides ad hoc advice about world health issues to the Bill and Melinda Gates Foundation.
About being the first woman from MSU to be named to the National Academy of Sciences in 2007, Fraker said, "It was an incredible honor. I was smiling for weeks and weeks! It's about the nicest award you can get—other than the Nobel Prize."