Thomas and Peggy Adams: Beloved professor leaves a legacy of learning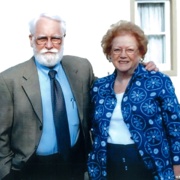 If you were enrolled in a physiology course at Michigan State University between 1967 and 2011, chances are you knew Professor Thomas Adams. It is estimated that he taught 16,000 students at the undergraduate, graduate and professional levels during his career at MSU.
Adams, who retired in January 2011 at the age of 80, was popular not only as a great professor, but a highly regarded advisor and mentor. He also holds several patents—some for research equipment and some for sensor devices that are still used today.
After his death in August 2011, his wife, Peggy, decided to establish a scholarship in his memory. The Thomas Adams Memorial Scholarship honors his love of learning and his dedication to helping students achieve success.
"When I set up this scholarship, I didn't want it to be just about a high GPA," Peggy said. "Obviously, a recipient has to be doing well in school, but financial need and intellectual curiosity are major criteria in selecting the recipients."
The first scholarship was awarded in 2013-14.
"This scholarship was a pivotal moment in my undergraduate career, but I didn't realize it until a few years later," said inaugural recipient Kevin Kelly. When he heard about the scholarship, he was in the midst of deciding whether to apply to medical schools or pursue a research-focused career. "As undergraduate research is often not a paid endeavor, this scholarship helped me and my family make ends meet while I worked in a lab," Kelly continued. He completed his master's degree at MSU in 2015, and earned his Ph.D. degree in biomedical sciences at Mayo Clinic, where he is now a third-year student.
"It has been so rewarding to set up this scholarship," Peggy said. "It helps us stay connected to MSU; we're talking about a 40+ year connection with the university, and to be able to continue it in this way has been wonderful."
"It was truly an honor to receive this scholarship and it felt so rewarding that my enthusiasm and passion for physiology was recognized," said Rachel Brock, 2014-15 recipient. After graduating from MSU, she earned her master's degree from the Duke University Pathologists' Assistant Program and currently works as a pathologists' assistant.
"This scholarship helped me to take various courses that eventually helped me discover my passion for pathology and turn that into a career," Brock said. "The Thomas Adams Memorial Scholarship is a wonderful opportunity and I will be forever grateful for it."
"The generosity of the Adams' family facilitated the enrichment of my undergraduate experience through research in the laboratory," said Clarissa Richardson, 2016-17 recipient. "I spent my last couple semesters immersed in a laboratory focused on mast cell–mediated allergic diseases." She plans to apply for a master's in physician assistant studies.
"With my first-hand experiences with Dr. Adams' colleagues at MSU, and after meeting his wife, it is clear that this man left a remarkable legacy," Kelly said. "I'm incredibly honored to have been a recipient of this award, and so thankful for the opportunities that it opened up for me." He expects to graduate at the end of 2019 and find a teaching or a postdoctoral position.