Phil Zecher: Giving the university the flexibility to stay current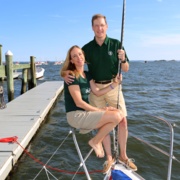 When Phil Zecher (Ph.D., nuclear physics, '96) enrolled in graduate school at Michigan State, he wasn't sure what he wanted to do afterward.
"MSU was one of the top nuclear physics programs in the country, so that's why I decided to go there," he said. "But I didn't go to grad school right after I graduated from Ohio University. I was so burned out after the intensity of honors physics that I decided to do something completely different."
So Zecher worked at Fidelity Investments for two years, in part because the male-to-female coworker ratio was decidedly in his favor.
When he completed his doctorate, he realized two things: he didn't want to work in a lab and he did want to work and live in New York City. The math and data skills Zecher had honed while earning his Ph.D. meshed with the emerging financial field of risk measurement and management and he went to work for Deloitte Consulting in New York.
"As I learned more about the field and saw how the consulting was done, I had an idea to run risk analytics software in the cloud," he explained. "It's fairly common now, but at the time, it wasn't being done and my company provided it as outsourcer."
Zecher's company, Investor Analytics, was the first cloud-based risk services company. He later sold it and joined a global macro/currency hedge fund, which he left in 2012. Since then, he has been consulting with other funds on risk and technology issues and developing textbook materials for risk models, general portfolio analytics and risk methods.
All of which explains how a nuclear physicist ended up being named an executive-in-residence at the MSU Eli Broad College of Business for the fall 2015 semester. Zecher will be on campus for 10 weeks teaching a finance course. He also serves as senior adviser to the president for investments and has served on the MSU Foundation's board of directors since 2010.
Zecher and his wife, Clare, a former hedge fund CFO, have been donating to MSU since 2005. They are President's Club members and he is also a College of Natural Science Capital Campaign volunteer.
"As a society, we're not doing what we need to support education," Zecher said. "The yearly tuition at some privates is upwards of $70,000. How does that make sense? Who can afford that? State governments have forced state institutions to be like private institutions. We as alumni have to support the institution because the government isn't.
"I don't think I would have done the things I've done without my MSU education," he continued. "I see the difference philanthropy makes on campus. Contributions give the university the flexibility to stay current and do new things. So much of the budget can be spent only on certain things. But philanthropy gives the administration a chance to be innovative."
To escape the pressures of the financial world, both Zechers head outdoors. Clare is a triathlete who also coaches and trains other competitors. Phil is an avid sailor who has raced and sailed around the world.