Rachel Dubuque: Jump in with both feet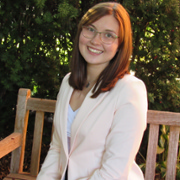 Rachel Dubuque is a senior, majoring in biochemistry and molecular biology/biotechnology. She is a Dean's Research Scholar and hails from Hartland, Mich.
Ever since I was a child, I was fascinated with medicine. My first toys I vividly remember came from a plastic doctor's kit, a stethoscope and a reflex hammer. When I was old enough to watch TV, I begged to watch anything that involved the profession. I think my parents regretted allowing me to watch "Birth Day" on TLC however, when I asked my Grandpa if I could "check his cervix for dilation."
I was 13 when I first heard the word "cancer." A word that held little gravity in my naive world, oblivious to the pain and burden it would inflict upon my family. My mom was first diagnosed with stage 3 breast cancer in the spring of 2013. She underwent invasive surgery, and, as far as we all understood, the cancer was gone. When it reappeared in 2018, it had metastasized to her liver and bones, and slowly over the course of the year spread quickly throughout the remaining healthy organs.
In and out of doctors; offices, dealing with doctors on a daily basis, my childhood heroes and my professional aspirations, I became frustrated, and disappointed. I couldn't understand how things were not looking any better, and how far short my idols fell from expectation. But the sad truth I had to come to terms with, was that it wasn't the fault of the doctors, and that there is so much we don't know about cancer. The fundamental issues of treatment and care don't have an absolute answer, and researchers in labs all over the world go to work every day to tackle these problems head on.
My sophomore year I joined one of these labs. Under principal investigator Dr. Zhen Qiu, at the Institute of Quantitative Health Science and Engineering (IQ) at Michigan State University I began to collaborate with students and faculty from a variety of academic backgrounds. My research experiences gave me hope and they gave me purpose. I have only grown more passionate and curious ever since.
My current research focuses on mechanisms of breast cancer metastasis and how these mechanisms can be inhibited via cancer treatments. If we can understand how to monitor cellular changes with imaging technology, we can better understand how cancer spreads and develop custom treatments to prevent metastasis and improve patient prognosis. I plan to continue similar research through a graduate Ph.D. program next year, following the completion of my biochemistry degree.
When I decided to join a research laboratory, I was unsure of what my participation would entail. I was intimidated by my brilliant colleagues and my inexperience in a laboratory. It can be scary to walk into a room not yet knowing your purpose or skill set, and that's exactly why you have to do just that. Over the past three years, I have developed more skills, and have learned more than anything attainable in any of my coursework.
I have met so many incredible mentors and found a channel for my intrinsic curiosity. My advice to all the students interested in research: Jump in with both feet. Follow your passion and chase the unanswered questions.
Publish date: Nov. 28, 2020