Richard and Susan Hill: This land was made for . . . instructional field study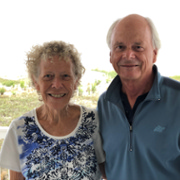 From the U.P. forests to the Great Lakes' shorelines, Michigan is made to be discovered by the next generation of young
From the U.P. forests to the Great Lakes' shorelines, Michigan is made to be discovered by the next generation of young biologists. And now, field trips to explore the natural world will be more accessible to Michigan State University undergraduate students because of the Richard and Susan Hill Fund for Instructional Field Study.
This new endowment was created with a generous gift from an anonymous donor in celebration of Richard "Dick" Hill's retirement in 2017 after a 46-year career at MSU, and in recognition of Susan for her long history as a caring teacher and advisor.
"All of biology begins in the natural world—the field," the Hills said in a personal statement, sharing their vision for this legacy fund. "For this reason, young biologists are often deeply affected and inspired by visiting the natural world with experienced teachers—teachers who can expand their understanding of nature and its foundational significance. . . ."
The Hills, who met at the University of Michigan while earning their Ph.D.s, joined MSU's zoology department in 1972. About 10 years into the job, Dick established an annual trip to the Chesapeake Bay area. By the time the program ended 24 years later, it had grown to a three-week expedition—usually to Chesapeake but sometimes to Maine or Florida—with 10 students participating each year.
"The idea was to get students out in the natural world collecting samples, examining them, taking data and writing diaries," Dick said.
As Dick was approaching his retirement, Tom Getty, chair of the Department of Integrative Biology, suggested the creation of an endowed fund. The Hills wanted it to be in support of Dick's passion—instructional field study.
"I've always been fully committed to field expeditions for students," Dick said. "We wanted to continue to provide a way for students to go out in the fields, woods, streams, marshes, lakeshores and dunes with somebody knowledgeable to help them see the natural world in a new way."
In May 2018, an anonymous donor stepped forward and provided $50,000 to launch the Hill endowment. To grow the fund, the Hills will now match dollar for dollar all donations up to $30,000.
"We'd like to see this endowment reach the $100,000 mark," Dick said. "We hope the fund will be used primarily for trips within the state—but that's not a restriction.
"A large fraction of our student body today comes from highly urbanized places, where they don't experience the natural world," he added. "We have students who want to go into biology, but they have never been in natural environments with someone who can help them learn how to learn," he said.
"How can students think about major issues confronting the world if they've never been out there seeing how different species interact, and learning about the interdependence of organisms?" Susan added.
Funds are now available and faculty members are invited to apply. The fund will cover transportation, lodging, meals, equipment and faculty salaries—making it possible for students to participate at no additional cost.
"The core idea is to provide opportunities for future scientists," Dick said. "That's what it's all about."
Published February 13, 2019