Richard Van Frank: Undergraduate research plants seeds for career, endowment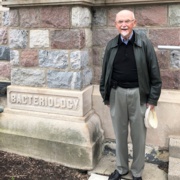 An undergraduate research experience at MSU planted the seed for a lifelong career in research for Richard Van Frank. It also prompted him to "pay it forward" in the form of an endowment that will fund undergraduate research programs in the MMG department.
"When I was a student at MSU, I took advantage of an undergraduate research program," Van Frank said. "I learned how to make my own decisions and do a lot of work that I otherwise would not have had the opportunity to do. It was a good start for my research career."
As a member of the Naval Reserve, he applied for Officer Candidate School and was accepted upon graduation from MSU (B.S., microbiology and public health, 1951). After completing training at Newport, Rhode Island, he was assigned to the Naval Damage Control Center at the Philadelphia Navy Yard to develop a secret training program for atomic, biological and chemical warfare defense for the Atlantic Fleet.
Upon completion of his Naval service, he returned to MSU for his M.S. degree and worked in a media preparation lab—where he met his future wife, Susan, who was majoring in medical technology. They were married in 1954 in the MSU Chapel.
Van Frank completed his M.S. in microbiology and histology in 1956 and was offered a job with Eli Lilly & Company.
"I started out working on polio vaccine; I developed a method for concentrating the virus, for which I hold a patent on," Van Frank said.
"Lilly had a cooperative agreement with Oak Ridge National Laboratories to develop peaceful uses for the high-speed zonal centrifuge technology that they developed," he continued. "This agreement resulted in the first purified influenza vaccine. The separation of the residual chicken egg protein from the vaccine resulted in significantly fewer side reactions.
"A large-scale, two-dimensional electrophoresis system was developed that incorporated an optical scanner, which fed the data into a computer so the size and location of each spot could be determined. A rat liver could produce around 1,000 spots and enough protein could be recovered from spots to determine the amino acid sequence," he said.
Van Frank retired from Lilly Research Lab in 1990, after 33 years of service, to launch Van Frank Associates, in Indianapolis, Ind., which consulted on methodology for protein purification. He also served for four years on the Indiana Air Pollution Control Board, as well as on several EPA advisory boards and committees.
Susan passed away in 2018 at the age of 86 and, in 2019, Van Frank established the Richard L. and Susan S. Van Frank Summer Research Institute and undergraduate research program, to be held annually in the MMG department.
During a recent visit to campus, Van Frank had the opportunity to go back into Marshall-Adams Hall, the original Bacteriology Building on the MSU campus. It was also the building where he met Susan.
"The building has been turned into office space," Van Frank said. "All the labs are gone, but I can still remember exactly where they were. I'm glad the building is being preserved."
Publish date: Sept. 25, 2020