Robert Rietz: Giving back because "it's the right thing to do"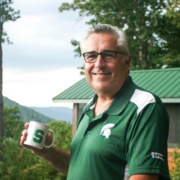 During a recent visit to campus, Bob Rietz (B.S., mathematics, '70; Honors College) had the opportunity to meet with R. Kevin Clinton, the new director of the math department's Actuarial Science Program, and three of the NatSci Dean's Research Scholars.
He couldn't have been more impressed with the college's programs and its students.
"Two of the students I met are majoring in neuroscience; they were telling me about the projects that they themselves are managing," Rietz said. The third, an astrophysics major, told me she has discovered seven new stars—using a radio microwave telescope. Seven new stars are now in the astronomical catalog!"
He is also pleased with the progress of the Actuarial Science Program, which graduated its first cohort of students in 2013.
"It's growing extremely well. There are more than 100 students in the program right now. These students are passing exams, getting jobs," Rietz said.
There are about 20,000 credentialed actuaries in the United States today, he said.
Born in Chicago, Rietz was "recruited to MSU by a wonderful gentleman named Russell Wentworth, the MSU recruiter for the Chicagoland area."
"During my time as a student at MSU, I was able to pass three of the five exams required by the Society of Actuaries to become an associate of the society. That was unheard of in those days; employers were impressed," Rietz said. "Maybe I'm bragging . . . but what I'm really bragging about is the strength of MSU's math program!"
Immediately after receiving his degree from MSU in 1970, he went to work for Lincoln National Life Insurance Company in Fort Wayne, Indiana. After four years there, he joined the Wyatt Company in Detroit, where he worked for 25 years—first as an actuary, and then as a team leader. After three years at Blue Cross/Blue Shield of Michigan in the human resources department, he spent nine years at Deloitte Consulting LLP in Detroit before retiring as chief pension actuary.
In the 1990s, he was appointed by Michigan Gov. John Engler to the Michigan Public School Employees Retirement System; he served for about seven years. Last fall, he was named to the Investment Committee of the Detroit General Employees Retirement System by Gov. Rick Snyder. He just also completed six years of service on the Actuarial Board for Counseling and Discipline, the last two as chair.
Rietz feels it's especially important to give back to his alma mater. He has been supporting the Actuarial Science Program both financially and through serving on the Actuarial Science Advisory Board, which is composed of people from industry—as well as faculty. He is also on the College of Natural Science Campaign Advisory Board.
"I am positive that I wouldn't be where I am today if it weren't for Michigan State. I want to give back; it's the right thing to do. I want others to have the same advantage that I did. I want to help keep the math program strong. I want to help the actuarial program be one of the nation's best."