Roger Beachy: A pioneer in plant pathology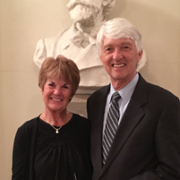 Raised in a farming environment, Roger Beachy always knew agriculture would be his calling.
"Agriculture was a natural for me. That's where I wanted to spend my future," said Beachy, who received a Ph.D. in botany and plant pathology from MSU in 1973. "But I knew I didn't want to do agriculture the way it had been done in the past—I wanted to discover science that could help agriculture change and be more sustainable."
His many pioneering efforts have been recognized nationally and internationally.
Upon joining the faculty at Washington University in St. Louis in 1978, Beachy discovered a way to use biotechnology and genetic modification to develop virus-resistant crops. In 1987, he and his team were the first to use biotechnology to create virus-resistant plants in the tomato family. The discovery was later extended to alfalfa, cucumbers, peanuts and other crops. In the mid- to late 1980s, Beachy established the Institute for Plant Science and Biotechnology with support from the State of Missouri—one of the earliest of its kind in the United States.
In January 1999, he became founding president of the Donald Danforth Plant Science Center, a St. Louis-based nonprofit organization dedicated to improving the human condition through plant science. Beachy's wife, Terry (B.A. '70, M.A. '71, audiology and speech sciences), was also instrumental in the development of the Danforth Center while Beachy served as founding president. "She played an incredible role in introducing the center to St. Louis," he said.
In 2009, Beachy was appointed as the first director of the National Institute of Food and Agriculture in the U.S. Department of Agriculture. In 2012, he became founding director of the Global Institute for Food Security at the University of Saskatchewan. And in
2013, he helped establish the World Food Center at the University of California, Davis. He is senior advisor to several companies and nonprofit institutes in the United States, Italy and China.
This highly successful alumnus has remained connected with his alma mater in several capacities. He was the fall 2001 commencement speaker; gave a seminar—"The Role of Science in Meeting the Grand Challenges of the 21st Century"—in 2011; and worked with MSU to establish collaborations with the University of Saskatchewan and the Danforth Center, including training scientists from developing countries.
A professor of biology at Washington University, he is a member of the National Academy of Sciences, and academies in Korea and India. He received the prestigious 2001 Wolf Prize in Agriculture and the 2018 MSU Distinguished Alumni Award.
Both Beachy and his wife have consistently supported MSU financially since the 1980s.
"The university gave us each such a great foundation for our successful careers as academics," said Beachy, who received an Honorary Doctor of Science degree from MSU in 2001. "We are grateful for the education we received.
"We direct our gifts to the College of Natural Science because we want to ensure that science remains an important component of public education—particularly in the fundamental sciences," he added. "Our hope is that our gifts, in some small way, can help the college achieve its goals in research and education."
October 18, 2018