Roger Wolthuis: The kismet of cold calls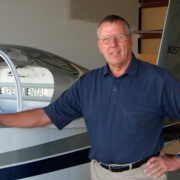 As an undergraduate at the University of Michigan, Roger Wolthuis (M.S., physiology, '65; Ph.D., physiology, '68) knew he wanted to be in a medical profession of some sort. He just wasn't sure what would be the best fit for him -- should he go to medical school or focus on a related discipline?
"I went into the U.S. Air Force after high school," Wolthuis said. "I was trained in aviation physiology, and subsequently trained USAF pilots and crew members about the effects of altitude on the body. Later, as I was trying to decide what to do after college, I got a cold call from a Michigan State physiology professor, Dr. Doyne Collings. Dr. Collings told me he'd received a NASA grant to study cardiovascular physiology, and needed a graduate student with some physiology experience."
Wolthuis isn't quite sure how the professor found him, but he decided the project sounded interesting and was soon enrolled at MSU working on his master's degree.
A self-described "practical problem-solving guy", Wolthuis didn't want a career in academia, despite earning his doctorate.
"I wanted to be out in the world using my training to solve real and pressing problems," he said.
While visiting drug companies and aerospace firms, Wolthuis got another cold call, this one from a recruiter in Texas looking for someone to run the cardiovascular lab at the NASA manned spacecraft center. Again, Wolthuis took a chance on the unknown, and it proved to be a winner.
He subsequently moved around the county, with stops at the School of Aerospace Medicine in San Antonio, Medtronic in Minneapolis, and Squib Medical Systems in Seattle, and he admits that he became somewhat disconnected from his alma mater.
Today, he holds four U.S. patents and is the cofounder and operations manager of RJC Enterprises, a company that develops fiber optic sensors and systems for the medical device industry.
Wolthuis also initiated some life-changing cold calls. In 1963, a quick perusal of the front page of The State News told him the newly crowned homecoming queen was from Holland, Mich. Since her last name was also Dutch, he thought they might have friends in common, so he decided to call her. Friendship and more developed – the two have now been married for 51 years.
But yet another cold call rekindled his relationship with MSU.
"In 2011, I got a call out of the blue from the acting chair of the Physiology Department, Dr. David Kreulen, whom I had never met," Wolthuis explained. "He had studied undergraduate chemistry under my dad, and learned about me through my sister in East Lansing. He asked for my resume, which I sent, and then he asked me to give a seminar."
After his 2012 MSU talk on non-academic careers for physiology majors, Erica Wehrwein, assistant professor of physiology, was waiting to speak to Wolthuis. She was excited about his talk and wanted to implement some of the things he had discussed.
"I liked her attitude and her thinking," Wolthuis said. "So I decided to make a gift to her lab to help her implement the teaching and promotion of integrated physiology.
"I feel a large sense of indebtedness to MSU, the Physiology Department and Dr. Collings for giving me the opportunity for advanced study in physiology at a very crucial point in my life," Wolthuis added. "I want to help the school, and I want to help foster the training in integrated physiology – a philosophical approach to physiology – that Dr. Wehrwein is doing."