Ron and Pam Hill: Gifts fund critical field study programs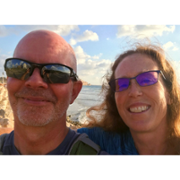 Ron Hill (B.S., geology, '86) finally got the chance to take that field trip with his fellow geology classmates, albeit several
Ron Hill (B.S., geology, '86) finally got the chance to take that field trip with his fellow geology classmates, albeit several years later—as an alumnus.
Hill, who began his undergraduate work at MSU in chemical engineering, switched majors during his sophomore year after taking a geology class and realizing his interests were in geochemistry. While many of his classmates went on the annual spring field trips, Hill did not go. "Quite simply, I couldn't afford it," he said.
It wasn't until 2006 that Hill experienced his first MSU field trip—a three-day excursion to Michigan's Upper Peninsula. He loved it, and plans to take part in future field trips.
Prior to that trip, Hill had expressed his interest in giving back to the department to help fund field studies. Hill, along with his wife, Pam, began giving annual gifts to support the Geology Endowed Field Study fund in 2003, just a few weeks after it was established by the department. The fund is currently used to provide Field Camp Awards to undergraduate students; six awards were given in the 2017-18 academic year.
"It's critical in the education process to see in the field what you're learning about in the classroom," Hill said. "If there are financial constraints for students, we want to ensure that the financial burden is alleviated in some way; if some assistance can be provided that helps the student get into the field, that's our motivation," Hill said about the endowed fund, noting that Pam also has two geology degrees—a B.S. degree from Smith College in Massachusetts, and a master's from the University of Colorado Boulder.
"Creating opportunities like this for students is important, and we feel a commitment to Michigan State," Hill added. "We respect the approach that the department takes with their students, and their commitment to providing a quality education."
After Hill received his B.S. in geology from MSU in 1986, he went on to study chemistry and geochemistry at the Colorado School of Mines in Golden, Colorado, receiving his master's degree in 1989.
"The late 1980s was a pretty tough time for finding jobs in industry; environmental jobs and energy-related jobs both were pretty tough to find. So after I got my master's, I continued my education at the University of California, Los Angeles," said Hill, who received his Ph.D. in geology in 1994.
After an 18-month postdoc position at Chevron, Hill was hired at ExxonMobil, where he'd had an internship while at UCLA. He subsequently held jobs with the U.S. Geological Survey, Marathon Oil Company and Noble Energy before joining EOG Resources in 2014, one of the largest independent crude oil and natural gas companies in the United States. Hill is the chief geochemist at EOG, which is located in the greater Denver area.
"Michigan State was really the educational step that opened the doors for moving on to quality graduate programs that allowed me to continue to carry on my love of science," Hill said. "My time at MSU taught me to think, and to develop a work ethic that has essentially benefited me from that point forward."
Published October 3, 2018