Sally and Thomas Crawford: Keeping connected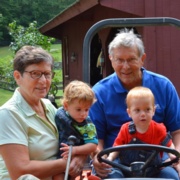 Whether in Connecticut or California, the Crawfords like to stay connected—with their family, their community and their alma maters.
MSU alumna Sally A. Crawford, M.D., and her husband, Thomas C. Crawford, are Michigan natives who met while they were graduate students at UCLA. They now live in Essex, Conn., but spend four months each year wintering in San Diego, Calif., where their daughter is an implementation consultant for a Texas-based software company. Several times a year, they visit their son and his family—which includes 27-month-old twin boys—in Haifa, Israel, where he is assistant professor of mathematics at Technion – Israel Institute of Technology.
Sally earned her bachelor's degree in chemistry in 1970 from MSU, where she was also a member of the Honors College. She received her Ph.D. in chemistry from UCLA in 1975.
"I'm not sure how I first became interested in chemistry," Sally said. "But my father and grandfather both graduated from MSU in chemistry; so maybe it's in the genes!"
Tom completed his undergraduate work in 1967 at Kalamazoo College, in Kalamazoo, Mich., with the help of scholarships, and then earned his Ph.D. in organic chemistry from UCLA in 1974.
After finishing their graduate degrees, they moved to Connecticut, where Tom took a job at Pfizer as a research scientist. Sally also worked at Pfizer for a couple of years, and then was a chemistry instructor at the University of Connecticut and at the University of Rhode Island.
At the age of 34, she began medical school at the University of Connecticut. After an obstetrics and gynecology residency at Hartford Hospital, she was in practice for 13 years, most of which was in Norwich, Conn.
"When I got to graduate school at UCLA, they had a series of qualifying written exams that we had to take. I passed the first four without even blinking. I clearly was very well prepared," Sally said. "And again, when I took the MCAT and went to medical school, none of it was a huge challenge for me. That speaks to the education I received at MSU."
Now retired, they stay busy. Tom is a consultant in the pharmaceutical industry. Sally does volunteer work with the Child and Family Agency of Southeastern Connecticut, for which she recently completed a two-year appointment as board chair. Cooking at St. Vincent de Paul Place and board time for the local Visiting Nurse Association are also on her agenda. Sally and Tom are both involved with giving back to their alma maters.
Sally currently serves as an evaluator for the MSU College of Natural Science Dean's Research Scholars Program. Her role is to interview potential scholars and provide feedback to the selection committee.
"I am really impressed with the quality of their research. These students are amazingly poised, and extremely experienced," said Sally, who has been involved with the program for four years now.
"Sally and I received excellent educations and had great experiences in college; we feel fortunate to be able to assist others—in at least some small way—in having such wonderful opportunities as well," Tom said.