Scott and Patty Belden: "This is what you do, if you can"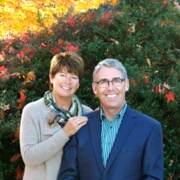 Growing up just northeast of Buffalo in Amherst, N.Y., Scott Belden (B.S., natural science/mathematics, '78) watched his parents and grandparents frequently donate to Cornell University and be active members of the Cornell Alumni Association. So when he graduated from Michigan State, he and his wife, Patty, followed suit and became MSU donors just a few years after he graduated.
"I was taught that this is what you do," Belden said. "The expectation was there that I would share my good fortune and support my alma mater. I think that's sometimes a challenge for MSU. Not all people think that MSU needs support. But for the institution to remain top tier, it has to be supported by the people who care about it – and that's the alumni. It can't be left up to the state. Our ambitions exceed what the state can do."
Despite the strong familial ties to Cornell, Belden was impressed when he attended a presentation MSU recruiters made in western New York and decided to apply to and ultimately attend the university.
"I loved every minute of my time at MSU," he said.
Originally an astrophysics major, as a sophomore he realized that path led to academia and research – and he wanted to be in business. So he became a math major and, after reading a pamphlet in the career center about actuarial science, took two of the actuarial professional exams while still in college.
"That started me on the insurance path. After I graduated, I took a job with Travelers and have been here my entire career," he explained. "It's been a very interesting job. The company has been through some major changes, including going through an IPO and being acquired and subsequently spun off by Citigroup."
Belden is currently senior vice president of reinsurance for The Travelers Companies, Inc.
A wide-ranging donor, Belden has contributed to many different areas of the university, including the Spartan Fund, The State Is Great Endowment, the MSU Student Food Bank, recreational sports and fitness, the Actuarial Science Exam Prize Endowment and the Actuarial Science Scholarship.
"I like to support the College of Natural Science," he said. "I think it's very cool that MSU has one of the top nuclear physics programs in the country. I'm also a big believer in sports and athletics. I like to support the intramural sports; I played intramural hockey and softball. I think the team skills you learn are important. Ultimately, though, I figure that everything needs funding."
Now living Connecticut, the Beldens make the trip back to campus at least once a year to see friends in the area and take in a football game.
"It's kind of amazing; when we see our friends from Michigan, which isn't that often, it's like nothing has changed. We just pick up right where we left off."
Belden's dedication to MSU is unwavering and he isn't shy about encouraging other alumni to step up and help support the university.
"People need to recognize that if we're going to be as proud of MSU 10 years from now as we are today, it's going to take a strong commitment on the part of the alumni," he said, the passion he feels coloring his voice. "Is it a challenge? Yes. But I think we can do it."