Shelagh Ferguson-Miller and Robert Miller: BMB endowment would clearly advance research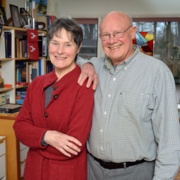 It is crystal clear that Shelagh Ferguson-Miller and her husband, Robert Miller, have contributed enormously to their respective fields—biochemistry and particle physics. Since coming to Michigan State University in 1978, they have also generously supported a variety of MSU programs and activities through their giving to the Wharton Center, the Kresge Art Museum, the College of Human Medicine and the Student Organic Farm, among others.
Now, they are planning to fund an endowment that will reside in the College of Natural Science's Department of Biochemistry and Molecular Biology (BMB)—most likely to support postdocs.
Ferguson-Miller, a University Distinguished Professor who will officially retire from BMB in May, has received many awards and honors in recognition of her research related to the crystallization of membrane proteins. She also served as BMB department chair from 2003-2008.
"In the late 1970s, there weren't many good detergents for purification and crystallization of membrane proteins," said Ferguson-Miller, explaining that detergents are molecules that can take the place of the membrane when the protein is purified. "I was looking for a detergent that would be pure, well-defined and keep membrane proteins "happy"!
Her research team started making a variety of detergents, and found an exceptionally good one—lauryl maltoside, a sugar-based detergent—that worked for many different proteins and allowed scientists to achieve better crystallization than with other detergents.
With this new detergent, which is now used in labs around the world, the group was able to obtain high-resolution x-ray structures of the enzyme cytochrome c oxidase—which provided new insight into the structural basis of biological energy production.
Robert Miller, a senior research associate emeritus in high energy physics, retired from MSU's Department of Physics and Astronomy after 25 years.
"Particle physics is a field that has many large collaborations," Miller said. "MSU's high energy physics groups were involved in collaborations at the Fermilab (near Chicago) as well as the ATLAS collaboration at CERN (in Switzerland). These experimental efforts led to the discovery of the top quark and the Higgs-Boson."
Although Ferguson-Miller will soon retire, she continues to work on her current research project.
"My lab is now working with another membrane protein, originally called the peripheral benzodiazepine receptor," she said. "We determined the protein structure—the first-ever view of this crystal structure—which may provide the basis for discovering the next generation of anti-anxiety drugs."
Ferguson-Miller and her husband realize that a new endowment in support of postdoctoral fellows would further advance the department.
"It makes all the difference in the world to success in carrying out high-quality research—to have well-qualified and enthusiastic postdocs who are skilled at experimental work that will allow our projects to be realized," Ferguson-Miller said.
"The BMB department and the MSU science community contributed to my career by being a friendly, supportive environment that included many excellent scientists with wide expertise to draw on. This led to many productive collaborations, some supported initially by the MSU Foundation Strategic Partnership funds," she added. "In the next 5 to 10 years, the department will benefit greatly from the outstanding young investigators we have hired who will strengthen and expand our leadership in exciting new areas of science."
March 4, 2020