Thomas Taylor: Giving students a broader view of geosciences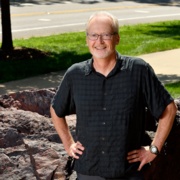 Thomas Taylor (M.S., geology, 79; Ph.D., geology, '82) remembers how much he benefitted from visiting professors when he was in graduate school.
"These experts broadened my horizons and allowed me to learn about different scientific ideas and approaches," he recalled. "It was a chance to discuss ideas with people who were leaders in their fields and see things from the viewpoint of someone from a different university or from industry. This greatly enhanced the MSU educational experience for me."
So Taylor and his wife, Margo Sackheim, who has degrees in geology from the University of New Mexico and Tulane, decided to establish the Thomas R. Taylor and Margo Sackheim Geological Sciences Lecture Endowment to give current students that same chance to exchange ideas with experts.
Now in its second year, the endowment brings in about 20 to 25 speakers over the academic year. All lectures are free and open to anyone who would like to attend.
"After I had been out of school for about 10 years, I came back to MSU to give a guest lecture," Taylor said. "I very much enjoyed meeting with the students. That started us thinking about the lecture endowment."
Taylor worked at the Shell Bellaire Technology Center in Houston for nearly 30 years before retiring in 2012. He now consults for SedPetrology in Arizona, doing many of the same things he did for Shell.
Taylor's path to MSU was fairly straightforward.
The professors at Winona State University, where he earned his bachelor's degree, encouraged him to go to graduate school, so he applied to a number of universities, including Michigan State and U-M. When he visited East Lansing former faculty member John Wilband, who has since passed away, escorted him around campus and made him feel at home.
"I felt very welcomed and MSU seemed like a good fit," Taylor said.
Growing up on a family farm in a small town in southern Minnesota, Taylor said he appreciates MSU's commitment to the land-grant philosophy.
"I hadn't done a research project until I came to MSU," he said. "There was grant money available for my projects and I am very grateful for that. I know how much funding means to a student's intellectual development. Land-grant schools provide a first-class education to people without a lot of financial means -- that was me when I was in school. Teaching assistantships and research assistantships helped me pay for my education. So now I want to help other students.
"I feel good about helping MSU," Taylor continued. "Good things are happening here. It's just a really great feeling to know that we're a part of it and helping students get connected and supporting education."
Taylor's Midwestern roots also inform his opinion on why donating to his alma mater is so important.
"Being raised in the Midwest, I feel that people don't succeed completely on their own -- no one is the Lone Ranger," he said. "People, places, institutions -- they provide you with opportunities and you can take advantage of them if you work hard. I've been given opportunities to succeed and keep learning and I would like to make sure future generations of students have those same opportunities."