Warren and Anneliese Wood: Making education value-added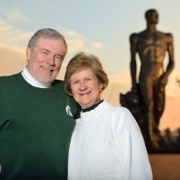 When comparing his 14 years as a faculty member at Oxford University to his 12 years of being a faculty member at MSU, Warren Wood (B.S., geology, '59; M.S., geology/geophysics, '61; Ph.D., geology/hydrology, '69) noticed that the big difference between the best Oxford students and the best MSU students was that the one-on-one tutorial teaching style at Oxford gave those students a better integrated education.
"Oxford students live their education, they don't apply it," said Wood, who is currently a visiting professor of hydrogeology at MSU. "MSU students learn the material in a semester, but because it's not often placed in a broader context, it's not clear where the information fits in a bigger career picture. Paid internships are an excellent way for students to integrate the material, but there aren't enough of those to go around."
So Wood and his wife, Anneliese Funk (B.A., humanities, '62), crafted a giving philosophy that aims to help MSU students get a better integrated education. They have proposed starting several programs that would foster a closer student-professor bond, as well as internship programs.
"My wife and I met at MSU," Wood said. "We met in spite of the 'no fraternization' rule at the Delta Gamma sorority house. I was a busboy and served her lunch and dinner for a year. We joke that I got the better deal because she's taken care of me for more than 50 years.
"We both came from small communities with limited opportunities," he continued. "So we were awed and excited by the world our MSU education exposed us to; it awakened something in both of us. We had such positive experiences at MSU that we want others to have the same experiences. That's what we're hoping our gifts will do."
The couple created their own named endowed fellowship to attract the very best graduate students to study geological sciences at MSU. Wood said they are in the process of restructuring that to fund some of their proposed enrichment programs, including a "coffee with the professors" program three to five times per week; financial support for volunteer government intern programs with various agencies such as the U.S. Geological Survey, Environmental Protection Agency and the Corps of Engineers; annual field trips to domestic and international locales with interesting geology; and a summer institute for gifted geology students who would live and study together with a professor at a field research site.
Wood said he is working with geological sciences department chair David Hyndman to make sure his proposed enrichment programs align with the chair's priorities. Then the Woods will decided which programs to fund.
An expert on the hydrology of arid areas, Wood's 54-year career has spanned the globe. He worked for the U.S. Geological Survey for 40 of those years, with stops in Michigan, Texas and Virginia. At the same time, he was also serving as visiting or adjunct professor at universities in Texas, China, the United Kingdom and Saudi Arabia. In addition to his MSU position, he still serves as adjunct professor at King Fahd University in Saudi Arabia; visiting research associate in the School of Geography at the University of Oxford in the United Kingdom; adjunct professor at the University of Nebraska; and scientist emeritus with the U.S. Geological Survey. Anneliese retired from the Fairfax County library system in Virginia.
"Traditionally, alumni have supported scholarships for needy or academically superior students and that's how our endowed fellowship started," Wood said. "But I feel like now we need to focus on how we can make education more value-added for students. I see the way universities are funded as problematic. Because we've shifted to tuition and grant-based support, many tenure-track faculty members are focused on funded research and teaching is done by contract professors. I'm hoping our proposed programs can bring more students and professors together."