Willis A. Wood: Endowment to inspire future generations of BMB students, faculty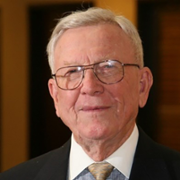 Willis A. Wood will forever remain an icon in the BMB department that he so loved.
The former MSU professor and department chairperson, affectionally known as Woody to his students and friends, joined the faculty in 1958 as professor of agricultural chemistry. He led a research lab at MSU for 24 years, focusing on the enzymology and protein chemistry of metabolic enzymes.
Upon his death last year at the age of 99, a former student, along with Wood's three children, created the Willis A. Wood Research Innovation Award in Biochemistry "to reward, enhance, and accelerate innovation and instrumentation in biochemistry."
"We established this award to preserve the memory of my father's inventions and discoveries, and to inspire new innovations by students and faculty," said Suzanne Spencer-Wood (professor of anthropology, Oakland University), one of Wood's daughters.
Wood was known for discovering the first left-handed enzyme, co-inventing the Gilford spectrophotometer and domesticating the morel mushroom with his colleague Professor Tolbert.
"My father loved his lab and conducting research with his students, who called themselves the Wood Institute in honor of his inspiring mentorship of his students," Spencer-Wood added. The Wood Institute was populated by a mix of undergraduate students, graduate students, post docs, lab technicians and visiting established scientists.
"I always thought the name—the Wood Institute—was a great tribute to dad and how he made the students feel like they all belonged," said Charlotte Lott (retired professor of economics, Chatham University), another of Wood's daughters.
"My father was a strong believer in education. I think his interest and support is why all three of his children ended up getting Ph.D.s," Lott added.
"When I was in high school, my mother signed me up for an MSU computer programming class for high school students; and that made a huge difference in my life. After taking that class at MSU, I would go on to do bioinformatics and computer work throughout my career," said Wood's son, William Wood (retired director of bioinformatics at Genentech). The summer after his senior year in high school, he also worked in his father's lab.
Willis Wood was also active in the formation of the Biochemistry Department in the early 1960s and in the funding and design of the Biochemistry Building, which was completed in 1964. While advancing the forefront of biological research was Wood's primary goal, much of this work was a success due to his innovations in instrumentation and methodology.
Therefore, recipients of this new award will be selected on the basis of their particularly innovative discoveries, with a preference given to methods and instrumentation. Undergraduate students, graduate students, post docs and department faculty members are all eligible.
During Wood's tenure at MSU, the Wood Institute was well known for having the lights on from very early in the morning (the agricultural college students started work at 6:00 a.m.) to after midnight (as the more urban-based students came into the lab in the afternoon and worked late into the night).
Now, this Willis A. Wood Research Innovation endowment will ensure that the lights remain on in BMB labs well into the midnights of tomorrow.
Publish date: June 30, 2022