Casey Henley receives AT&T award for online neuroscience course
Jun 24, 2019
AT&T Award, medical neuroscience, online courses, faculty, teaching
Homepage News, Faculty & Staff, Research, College of Natural Science, Neuroscience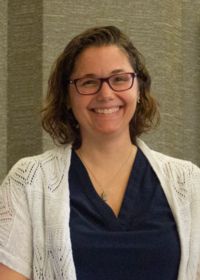 Casey Henley, assistant professor and director of online programs for Michigan State University's Neuroscience Program housed in the College of Natural Science (NatSci), took first place in the "Best Fully Online" category of the 2019 AT&T Faculty-Staff Instructional Technology Awards competition, an annual awards program recognizing outstanding contributions to the use and development of information technology for teaching and learning at Michigan State University.
Responding to the growing use of online instructional technologies, MSU Information Technology first held the awards program in 2005 to recognize and to encourage best practices in the use of technology to enhance teaching and learning.
"I was honored to receive this award," Henley said. "Student learning and success is my top priority; to have my work recognized by the university is incredibly rewarding."
Henley received the award for her course, Medical Neuroscience (NEU 841), a required course in the fully online Medical Neuroscience Graduate Certificate Program that she has taught for four years. She also teaches an undergraduate neurobiology course every summer that has a similar structure to NEU 841.
"Online education opens doors for students who would not otherwise be able to enroll in courses due to work, family, or other responsibilities," Henley said. "The advantages of learning online outweigh the disadvantages for these students. And feedback about the course has been overwhelmingly positive. I often hear concern in the beginning of the semester about the online aspect; by the end of the semester, students say they have had an enjoyable experience."
"On behalf of the Neuroscience Program, I am very proud to congratulate Dr. Henley on her receipt of this award," said James Galligan, professor and Neuroscience Program director. "She is responsible for the success of our online certificate program in medical neuroscience, but she also makes major contributions to the success of online course development in NatSci and university-wide online education. Dr. Henley is an innovative and creative educational scholar and we are very fortunate to have her as the director of the neuroscience online educational programs."
Both the medical neuroscience class and program were designed to provide educational opportunities to a wide range of adult learners. The course utilizes a digital syllabus and an easy-to-navigate informational website that allows students to find what they need quickly. Graphics highlight important information, and alternative text added to every image improves the site's accessibility. Initial assignments even allow students to practice—and gain mastery—using the course's online tools, including Google Classroom.
"Although it may not appear innovative to the student, the improvement of workflow that Google classroom provides allows me to spend less time managing assignments and more time interacting with students," Henley said.
Videos are also used throughout the course to help students construct knowledge, with all course videos created to capture a PowerPoint presentation with voice-over audio, and longer videos segmented to decrease their length to help the student absorb the information more fully. All videos are also fully captioned prior to posting.
Henley and the other AT&T Award recipients received their awards during a reception on April 25 at MSU's Kellogg Hotel and Conference Center. Awards were also given for "Best Blended" and "Best Enhanced" courses, along with several honorable mentions. For a complete list of this year's winners, visit https://attawards.msu.edu/.
Banner image: Casey Henley (center) receives her AT&T award from Brain Loomis (left), IT Services Infrastructure Support director and Jeff Grabill, associate provost for teaching, learning and technology.
Share this story