Four NatSci faculty recognized with University Distinguished Professor title
Jul 23, 2019
University Distinguished Professor, Award, Faculty
Homepage Hero, Alumni, Faculty & Staff, Research, Biochemistry, College of Natural Science, Microbiology, Physics & Astronomy, Plant Biology, Plant Research Laboratory
Four Michigan State University College of Natural Science (NatSci) professors—Christoph Benning, Robin Buell, Megan Donahue and Robert Hausinger—were among 10 MSU faculty members named University Distinguished Professors by the MSU Board of Trustees in honor of their achievements in research, teaching and mentoring, and community engagement.
The board of trustees voted on and approved the recommendations at its June 21 meeting.
"On behalf of the College of Natural Sciences, I would like to congratulate these four outstanding faculty who are truly deserving of the prestigious title of University Distinguished Professor," said Phil Duxbury, NatSci dean. "They are all distinguished researchers and teachers of fundamental science, ranging from the plant sciences [Buell, Benning], to astrophysics [Donahue] and the mechanisms of disease [Hausinger]. They have achieved the highest levels of distinction in their fields, while also providing strong leadership within MSU and at the national and international levels."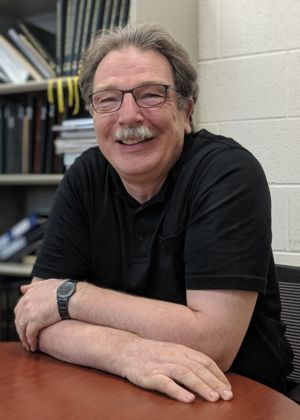 Christoph Benning, MSU Foundation Professor in the Department of Biochemistry and Molecular Biology, and director of the MSU-DOE Plant Research Laboratory, is a recognized leader in research on lipid metabolism in photosynthetic organisms.
One area of Benning's research is the assembly and maintenance of the photosynthetic membrane in plants and algae, which contains a unique set of polar lipids. His lab studies the biosynthesis and movement of these lipids of the photosynthetic membrane. Specific functions of these lipids in photosynthesis, especially during dynamic conditions, is investigated by applying state-of-the-art phenotyping to Arabidopsis and Chlamydomonas lipid mutants.
"I am truly honored by this promotion and would like to thank everyone who worked tirelessly with me, the students, post docs, staff members and collaborators, in advancing our understanding of lipids in photosynthetic organisms," Benning said.
Benning has extensive experience as a journal editor and is currently the editor-in-chief of the Plant Journal. He is a fellow of the American Association for the Advancement of Science and received the MSU Innovator of the Year Award in 2018.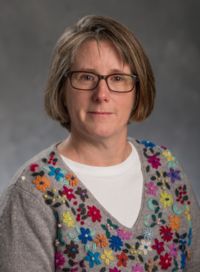 Robin Buell, MSU Foundation Professor in the Department of Plant Biology and director of the Plant Resilience Institute at MSU, focuses her research on the genome biology of plants and plant pathogens, including comparative genomics, bioinformatics and computational biology.
Buell's work has included genome research on rice, potato, maize, switch grass, sweet potato, mints and medicinal plants. She is currently working on studying the genomics of catnip and learning how it affects the behavior of cats. She was a member of the Rice Genome Annotation Project that generated the rice genome sequence and developed a public database for rice researchers that receives over two million visits each year from scientists across the world.
"It's really exciting to receive this honor," Buell said. "I think it's really a recognition of all the work I've done here, both research and teaching. It's also a recognition of the community here, so it's quite an honor. It's very humbling, because there are many people here at the university deserving of this award."
Buell's research group, which includes postdocs, research assistants, graduate students, undergraduate students and high school interns, collaborates with scientists across the United States and throughout the world. She said teaching and her research collaborations are the most fulfilling aspects of her career.
Buell has served as an editor at Plant Physiology, The Plant Genome, Crop Science, Frontiers in Plant Genetics and Genomics, and Plant Cell. She is a fellow of the American Association for the Advancement of Science and the American Society of Plant Biologists and is also an MSU William J. Beal Distinguished Faculty Award winner.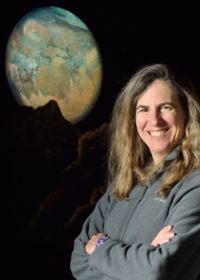 Megan Donahue, professor in the Department of Physics and Astronomy, studies clusters of galaxies, which can help explain the matter density of the universe because the formation of galaxy clusters is governed by gravitational physics.
Donahue is an expert in clusters of galaxies, cosmology, and galaxy evolution. Her current focus of research is the ecology of a galaxy: how the gas, stars, and central massive black hole interact over time to create self-regulated systems revealed through distinctive trends between galaxy properties such as their masses, black hole masses, and gas and star chemical compositions.
"This promotion was unexpected yet highly welcome—an unusual combination of properties for a late-career professor like me," Donahue said. "I am especially pleased by the small yet useful discretionary 5-year fund that comes with the promotion. I will be able to pay for travel and papers for my students and myself that do not fall neatly into the narrow definition of a particular research grant-funded project.
I have always felt valued and welcomed by my department and the MSU community, and I am grateful and humbled by this honor MSU has shared with me."
In 2016, Donahue was part of the international team of researchers that observed, for the first time, a black hole, located in the center of a galaxy cluster and a billion light years from Earth, preparing to feast on billowy clouds of cold, clumpy gas. These observations provide evidence that these clouds, called "galactic rain," are responsible for feeding black holes and regulating the formation of stars. Donahue uses a wide range of telescopes to test the ideas about galaxy evolution and black holes, including the Chandra X-ray Observatory, the Hubble Space Telescope, the Atacama Large Millimeter Array, and the SOAR Telescope, taking advantage of MSU's share of this telescope in Chile.
Donahue is currently serving as president of the American Astronomical Society. She is also a fellow of the American Physics Society and the American Association for the Advancement of Science. Donahue has served as chair of the NASA Senior Review, reviewing all extended NASA missions except for HST and Chandra; served on the Committee on Astronomy and Astrophysics of the National Academy; and is currently the MSU representative to the SOAR Telescope Science Working Group. Donahue is also a co-author of the best-selling introductory astronomy textbook series, The Cosmic Perspective, together with Jeffrey Bennett, Nicholas Schneider, and her husband, G. Mark Voit, MSU professor of physics and astronomy and associate dean for undergraduate studies in the College of Natural Science.
Donahue's commitment to excellent teaching at MSU has been noted with numerous awards, including the College of Natural Science Ronald W. Wilson Endowed Teaching Award for Integrative Studies, the College of Natural Science Teacher-Scholar Award for contributions to research and teaching, and the Physics and Astronomy Department's Thomas H. Osgood Award for faculty excellence in teaching. She is also an MSU William J. Beal Distinguished Faculty Award winner.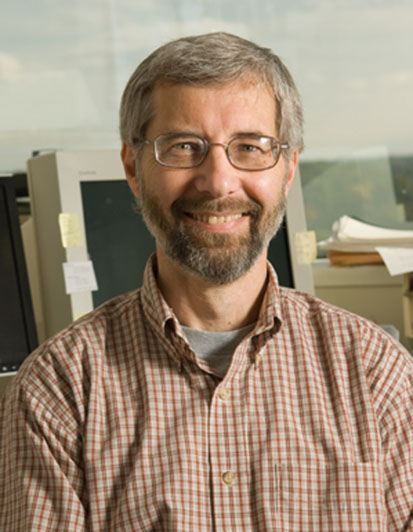 Robert Hausinger, professor with joint appointments in the Departments of Microbiology and Molecular Genetics and Biochemistry and Molecular Biology, investigates microbial physiology and enzymology related to transition metals.
Hausinger's lab explores the mechanisms of catalysis by metalloenzymes and characterize the biosynthesis of protein metallocenters, using an array of experimental techniques and approaches that includes gene cloning, site-directed mutagenesis, enzyme kinetics, metal ion binding assays, active site peptide studies, biophysical spectroscopic methods, and cellular assays for toxicity, and DNA repair. Hausinger's contributions to advancing the understanding of the chemical mechanisms of these microbial enzymes, which play important roles in the pathology of human disease, have been critical in his field.
"I am honored to be included with the outstanding MSU faculty members selected as University Distinguished Professors" Hausinger said. "The credit for this honor belongs to the many graduate students and postdoctoral researchers who have made exciting advances in metalloenzymology within my laboratory. I appreciate the excellent professional environment provided by valued faculty colleagues and staff that greatly contributed to my successes over the past 35 years at MSU."
Hausinger's lab includes postdocs, visiting international researchers and graduate and undergraduate students, all of whom conduct research, either in individual projects related to lab goals or as research assistants. Over the years he has supervised dozens of undergraduate and graduate students—even a few high school students—in their research, many of whom have been contributors to professional publications under his mentoring.
Hausinger is a member of the American Society for Microbiology, the American Chemical Society and the Society for Biological Inorganic Chemistry and is a fellow of American Academy of Microbiology. He has also been the recipient of an MSU Distinguished Faculty Award and a College of Natural Science Distinguished Faculty Award.
This distinction is one of the highest honors the university can bestow on a faculty member. Individuals holding the professorship receive a stipend of $5,000 per year for five years to support professional activities in addition to their salary. The title, however, is permanent for the duration of a recipient's service at MSU. A reception to honor the newly designated University Distinguished Professors will be held in November.
Banner image: The College of Natural Science at Michigan State University is home to 29 departments and programs in the biological, physical and mathematical sciences. It averages $51 million in research expenditures annually, while providing world-class educational opportunities to more than 5,600 undergraduate majors and nearly 1,000 graduate students, and has more than 48,000 living alumni worldwide. Photo by Harley Seeley.
Share this story