MSU biochemistry graduate students advocate for science on Capitol Hill
Feb 21, 2019
science advocacy, Capitol Hill day, graduate students, event
Homepage News, Alumni, Faculty & Staff, Research, Students, Biochemistry, College of Natural Science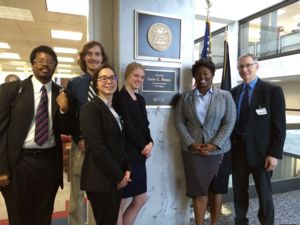 Four graduate students from Michigan State University's Department of Biochemistry and Molecular Biology (BMB) in the College of Natural Science met with staff at the offices of Senator Peters, Senator Stabenow, Representative Slotkin and four other representatives to advocate for science funding. The February 5-7 event was sponsored by the American Society of Biochemistry and Molecular Biology (ASBMB).
"Advocacy for science funding is a fundamental part of professional training in biochemistry" noted BMB professor and graduate director David Arnosti. "Some students will be interested in future careers in the intersection between policy and research, while others will remember the role federal programs play in science as they develop their careers in research, teaching, and the private sector as publically engaged scientists."
ASBMB's Director of Public Affairs, Ben Corb, personally accompanied the MSU group on their meetings. The students, Robert Fidis,Kayla Johnson, Brandon Rohnke, and Aiko Turmo, had the opportunity to personally describe the fundamental research supported by federal funding, while Corb introduced them to the intricacies of the budgetary process that underwrites their work.
The students expressed a shared and keen interest in science policy and advocacy.
"When I first learned of the Capitol Hill trip, I thought to myself: 'If I don't go now, I may never get the opportunity again,'" Robert Fidis said. "I am interested in science policy, so I took this as a learning experience and had an open mind. After meeting with different staff I took away that they understood the importance of science funding. Overall, it was a great experience."
Kayla Johnson said, "I learned a lot about the day-to-day operations in the offices of members of Congress, how lobbying works, and how regular constituents can be involved in the legislative process. The most valuable part of this experience for me was learning more about how those of us choosing scientific careers outside of public policy can still be engaged in ensuring that our representatives support scientific funding and science-based policies."
"I've been considering a career in science policy for a while now, and a trip to DC to advocate for science really highlighted how important it is to have scientists interested in science policy," said Brandon Rohnke, who is also a member of the MSU-DOE Plant Research Laboratory. "I was excited the whole trip, which is encouraging as I consider a career track in the field!"
Aiko Turmo, another member of the MSU-DOE Plant Research Laboratory, thought, "I learned about how science advocacy worked at the federal level. It was a great opportunity to experience an environment other than academia and meet new people with different backgrounds who were passionate about science. I appreciate Dr. Arnosti for giving us this unique opportunity. Also, I am grateful to Mr. Ben Corb from ASBMB for showing us around the Capital Hills and coaching us on how to communicate our exciting science to our legislators."
Banner image: Between visits to the offices of U.S. Senators and Representatives, Director of Public Affairs Ben Corb from the ASBMB joins MSU biochemists on the steps of the Capitol. Photo courtesy of David Arnosti.