NatSci conducts collegewide survey to inform culture change efforts
Feb 18, 2019
survey, culture change, College of Natural Science, Students, staff, Faculty
Homepage Hero, Faculty & Staff, Students, College of Natural Science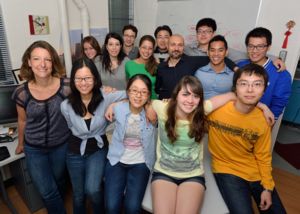 In its continuing effort to create long-term, meaningful culture change post-Nassar, the Michigan State University College of Natural Science (NatSci) is conducting a collegewide survey from Feb. 20 to March 20 to solicit feedback from faculty, staff and students about their experiences with and perspectives about the NatSci community.
"Inclusion and diversity are core values of Michigan State and NatSci," said Phil Duxbury, NatSci dean. "The college is committed to creating a supportive and welcoming environment where all students, faculty and staff can pursue academic and professional success. We urge everyone within the college to participate in this important assessment."
In response to the Nassar scandal last year, then NatSci Interim Dean Cheryl Sisk and the college's Faculty Advisory Council created a Task Force on Inclusive Initiatives. The task force was charged with evaluating suggestions from the NatSci Council on Diversity and Community (CDC) and comments from NatSci faculty, staff and students from town halls and other meetings held February - April 2018 to:
advance diversity and inclusion within NatSci;
oversee the development and dissemination of a NatSci climate survey to identify areas where the college is doing well and areas in need of improvement; and
inform the development of recommendations for NatSci to enhance diversity, equity and inclusion within all NatSci settings (e.g., classrooms, research laboratories, workplaces).
"Assessing how the current climate affects the experiences of the NatSci community is an essential step toward cultivating an inclusive, equitable and diverse environment within the college that provides a strong foundation for its members as they endeavor to meet their academic and professional goals," Sisk said. "This is an important moment in the history and trajectory of culture change at MSU, both collectively and within each college. It is vital that as many people as possible provide their voices, experiences and perspectives in this effort so that lasting and meaningful change can be made."
To begin the month-long process, each NatSci student, staff and faculty member within the college will be emailed a link to the survey on Feb. 20. Lyman Briggs coordinate majors and a sampling of undergraduate students outside the college who have taken courses taught by NatSci faculty will also be invited to participate in the survey.
To ensure survey effectiveness and confidentiality, NatSci has contracted with MSU's Office of Survey Research (OSR) to administer the climate survey. College leadership is asking all faculty, staff and students to strengthen the culture of diversity, equity and inclusion in the college by completing the survey.
The survey, which solicits information about individuals' senses of belonging, safety, respect and value in their classroom and professional environments, will take approximately 15-20 minutes to complete.
NatSci leadership understands that this is an investment of time and wants to assure survey respondents that the college is committed to using the data to improve its overall climate and classroom and work environments. Survey respondents who are unable to complete the survey within one session can exit the browser and re-open the survey using the unique link in their email.
If you have questions or concerns about the survey, please contact Daniel Thaler, Project Manager at OSR (thalerd1@msu.edu). Participation in the survey is voluntary, and responses will be kept completely confidential and anonymous. * Once the survey is closed, all anonymized responses will be compiled by OSR to prepare a report. This report will be made available on the NatSci website by summer 2019 and will also be shared with MSU staff whose work addresses climate-related issues on campus.
*federal law and/or MSU policy require us to provide any specific information we receive concerning abuses of minors or sexual assault.
Banner image: The College of Natural Science is committed to creating a supportive and welcoming environment where all students, faculty and staff can pursue academic and professional success. Photo by Harley Seeley.