NatSci undergrads Mohit Bansil, Emily Steffke land Goldwater Scholarships
May 10, 2019
Goldwater Scholarship, Award, undergraduate students
Homepage Hero, Alumni, Faculty & Staff, Research, Students, College of Natural Science, Mathematics, Neuroscience
Two Michigan State University College of Natural Science (NatSci) undergraduate students have been named recipients of the nationally competitive Barry M. Goldwater Scholarship.
Mohit Bansil, a rising senior majoring in advanced mathematics in NatSci, and Emily Steffke, a rising senior majoring in neuroscience in NatSci and English in the College of Arts & Letters, are the 45th and 46th Goldwater Scholarship recipients from MSU, respectively. Both are also Honors College students.
Each year, the Goldwater Foundation seeks scholars committed to a career in science, mathematics or engineering who display intellectual intensity and who have the potential for significant future contribution in their chosen field. Those students are given funding for undergraduate tuition and living expenses. A total of 496 college students from across the United States were awarded Goldwater Scholarships for the 2019-20 academic year.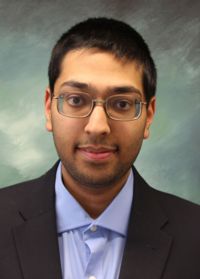 Bansil is from Farmington Hills, Mich., and graduated from North Farmington High School. He has been active in various mathematical research opportunities both at MSU and other institutions. In 2017, he won first place in MSU's Herzog Competition, earning him a spot representing MSU in the international Putnam Competition Top 150.
"I am greatly honored by the Goldwater Scholarship," Bansil said. "I believe that the scholarship will help me pursue my dream to attend graduate school and excel in mathematics."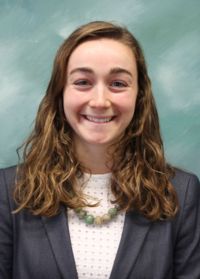 Steffke is from Weidman, Mich., and graduated from Beal City High School. She has been active in various neuroscience research opportunities both at MSU and other institutions. Steffke is a member of the MSU women's cross country and track team, as well as president and co-founder of Reach Outside, an MSU student organization that plans events for MSU students to volunteer with underprivileged children in the Lansing area to help them experience a variety of outdoor sports.
"It is a profound honor to have my research experiences and academic pursuits recognized as being among the top of all undergraduates in the country," Steffke said. "Winning this award has given me a great boost of confidence in my ability to communicate about my research and academic goals. I am extremely grateful for the guidance of my research mentors and the opportunities Michigan State has provided me as an undergraduate researcher."
"Our Goldwater Scholarship winners show, once again, that MSU's best science students are as strong as anybody's, anywhere in the country," said Mark Voit, NatSci associate dean for undergraduate studies. "Mohit and Emily are both articulate and passionate about their research, and I'm excited to see where their interests will take them next."
With the 2019 awards, this brings the number of scholarships awarded since 1989 by the Goldwater Foundation to 8,628 and a scholarship total to over $68 million. To learn more about the Barry Goldwater Scholarship and Excellence in Education Foundation, click here.
Banner image:The College of Natural Science promotes excellence in research, teaching, and public service across the biological, physical, and mathematical sciences. NatSci is home to 29 departments and programs, 5,500 undergraduate students and nearly 1,000 graduate students, and has 48,000 living alumni worldwide.
Share this story