NatSci's 10th annual Classes Without Quizzes makes the grade
Apr 30, 2019
Dean's Research Scholars, science presentations, alumni, Classes Without Quizzes, event
Homepage News, Alumni, Faculty & Staff, Students, College of Natural Science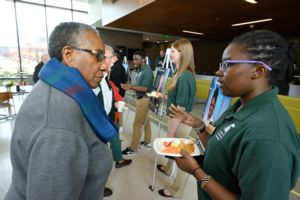 More than 100 Michigan State University alumni, friends and guests attended the 10th annual Classes Without Quizzes (CWQ), held this year on April 27 at the Molecular Plant Sciences Building on the MSU campus.
Hosted by the MSU College of Natural Science (NatSci), the event—which includes four faculty presentations—gives participants a chance to meet with NatSci faculty members and students, while getting an insider's look at some of the latest research activities being undertaken here on campus.
"Classes Without Quizzes is a great way for people to connect and think about some of the scientific questions that are really important," said Danny Ducat, an assistant professor and one of the presenters. "And it's a great venue for us as scientists to think about how we translate our research to make it relevant to the lives of everyday people. These are critical opportunities for us to communicate across what can sometimes feel like a bigger divide than what it really is."
Ducat spoke about a project in his lab that uses photosynthetic bacteria as a way to make fuels, bioplastics and other sustainable compounds—"the promise of it, and the obstacles we have to overcome to make it real," Ducat said.
The other presentations were Turning Pollution into Power with Electric Microbes;
Ghosts in the Ice: Finding the Universe's Most Elusive Particles in Antarctica; and The Opioid Epidemic: A Molecular Perspective.
The day concluded with an undergraduate student panel of 2018-19 NatSci Dean's Research Scholars sharing their research experiences.
Attending CWQ for the first time was Lauren Deborski, a high school senior from Midland, Mich., who will be a an MSU freshman this fall. Although she will major in art, she has an interest in biology. She was at the event with her grandfather, Gary Deborski (M.S., chemistry, '78).
"Because Lauren had already decided to come to MSU, we thought this would be another opportunity to get her on campus and interact with people," he said.
Linda Blair (B.S., elementary education, '66; M.S. '75) of Bath, Mich., attended for the second time.
"It's an enjoyable way to learn some new things that I don't always take the time to sit down and read about," she said.
Her husband, Gerald Blair (B.S., '68; M.S., '69 chemistry), attended for the third time.
"I really enjoyed the program the first time I attended. They did a really good job of putting it together, so I came back," he said. "It's always nice to expand your horizons. I haven't been disappointed."
Mark Ehlert (B.S., microbiology, '75) of Munising, Mich., attended CWQ for the fourth time. Ehlert served on the NatSci Dean's Board of Advisors, and he and his wife, Sandy, have endowed three scholarships at MSU.
"I come to Classes Without Quizzes not only to keep up on the research, but I'm an evaluator for the Dean's Research Scholars; this gives me a chance to get to know them a little bit better," he said.
Thomas Law (B.S., botany and plant pathology, '78) of East Lansing, Mich., has attended nine of the ten Classes Without Quizzes along with his wife, Rita Richardson. The only time they missed was when they were on a trip to China.
"These lectures are really amazing. And it's fun to see the Dean's Research Scholars—these young people are doing amazing things," Law said.
The 11th annual Classes Without Quizzes will be held April 18, 2020, and is open to all MSU alumni and friends. For more information, or to be added to the mailing list, contact Sara Ford, alumni relations coordinator, at fordsar2@msu.edu.
Banner image: One of the highlights of Classes Without Quizzes is the event's "final exam," which provides attendees with their "just desserts" for the day's effort—a free scoop of MSU Dairy Store ice cream. Photo: Harley Seeley
Share this story