NatSci's Alex Dickson simulates molecules in motion, wins OpenEye Junior Faculty Award
Jul 22, 2019
computational chemistry, American Chemical Society, Award, Faculty
Homepage News, Faculty & Staff, Research, Biochemistry, CMSE, College of Natural Science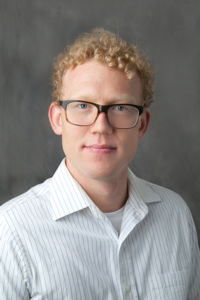 Alex Dickson, assistant professor in the Department of Biochemistry and Molecular Biology (BMB) with a joint appointment in the Department of Computational Mathematics, Science and Engineering, has received the highly competitive American Chemical Society (ACS) OpenEye Outstanding Junior Faculty Award in Computational Chemistry (COMP).
The ACS is the world's largest scientific society with more than 150,000 members. The Junior Faculty Award will provide Dickson with $1,000 to attend the 2019 ACS National Meeting in San Diego where he will present his lab's pioneering research on protein-ligand interactions. Dickson is one of just four outstanding junior faculty chosen for the honor based on the growing body of his work in computational chemistry and strong support from his department.
"Congratulations to Alex for receiving this award, which highlights the novelty and importance of the research being conducted by his team," said Erich Grotewold, professor and BMB department chair, who nominated Dickson for the honor. "The OpenEye award will help Alex gain even more visibility within the computational chemistry community."
"When I started my career as a faculty member, I had a vision and a lot of ideas but could never be sure what was going to work," said Dickson, who joined MSU in 2015 and was previously a postdoctoral fellow at the University of Michigan's Department of Chemistry. "Now my lab is at a stage where our research has really come together, and we have a body of work that we can be proud of, which is really satisfying!"
Dickson's research uses computational techniques to simulate the incredibly complex and ever-changing motions of biomolecules such as protein, RNA and DNA to gain insight into ligand binding processes in order to develop disease-targeting drugs. The Dickson Lab website is filled with images of richly textured computational models—molecular systems in motion.
"The students in my group have been working hard to build tools that I think have the potential to make an impact in drug discovery," Dickson said. "I'm very happy that we are receiving some recognition for these efforts."
At the ACS conference in San Diego, Dickson will discuss the software package his lab has developed to study long-timescale processes with molecular dynamics simulation. The computer simulations are extraordinary tools now available to scientists to study molecular processes and interactions important to understanding health and disease.
"The main drawback to these existing simulations is that even on modern hardware, they cannot be run long enough to see the events we are interested in, such as the binding of a drug molecule to its target in the body," Dickson explained. "Our simulation package—weighted ensemble in python, or WEPY—aims to make long-timescale processes accessible to researchers everywhere."
To learn more about the ACS and to see a list of previous OpenEye winners, please visit: https://www.acscomp.org/awards/the-comp-acs-outstanding-junior-faculty-award.
Banner image: The Dickson lab uses computer modeling to predict how drug molecules interact with their protein targets (shown in grey) and water molecules (red) inside the cell. Photo courtesy of Alex Dickson.
Share this story