NatSci's Dania Diaz receives Unit Research Administrator Spotlight Award
Apr 29, 2019
customer service, Unit Administrator Spotlight Award, Award, Staff
Homepage News, Faculty & Staff, College of Natural Science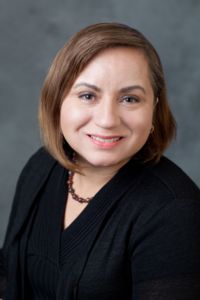 Dania Diaz, research administrator for the MSU College of Natural Science (NatSci) Office of Research Support, received the Unit Research Administrator Spotlight Award from MSU's Sponsored Programs Administration (SPA), Office of Sponsored Programs (OSP) and Contract and Grant Administration (CGA).
Twice a year, these research administrative offices recognize research administrators whose professional contributions and quality of service played an integral role in advancing MSU's research mission. Chosen from a large field of strong applicants, Diaz exemplified excellent customer service and served as an inspiration for others who aspire to such service.
"It is such an honor to receive this award, and I am so grateful for the nomination," said Diaz, who earned national recognition as a certified research administrator and has been working at MSU for 11 years. "Constantly working against the clock to meet deadlines can be tough, so it's nice to be appreciated. I work with a great team that includes both the NatSci Office for Research Support and our grant-active faculty."
Diaz helps faculty navigate the grant submission process so they can direct their efforts toward research proposal development. She has over two decades of experience in both pre-award and post-award research administration and uses her expertise to streamline procedures at the Office of Research Support.
"It is such a great feeling when a faculty member is successful in obtaining external funding crucial to their research," Diaz said. "This award is a validation of my small contribution to making that happen."
"I am so pleased that Dania won the Unit Research Administrator Spotlight Award," said Judy Brown, director of the Office of Research Support. "Dania is an incredible asset to our office, and I feel very fortunate to have her as part of our team. She goes above and beyond what would normally be expected to ensure that faculty members submit the best proposal possible.
"I wish to offer my sincerest congratulations to Dania on her award, and I know that the high quality of her work will continue into the future," Brown added.
Diaz received a plaque of accomplishment and a financial award along with the honor. She was also featured in the spring edition of the SPA newsletter and on the SPA website.
Banner image: The College of Natural Science promotes excellence in research, teaching and public service across the biological, physical and mathematical sciences. It is home to 29 departments and programs, 5,500 undergraduate students and nearly 1,000 graduate students, and has 48,000 living alumni worldwide.
Share this story