NatSci's Marcos Dantus receives Technology Transfer Award at MSU Innovation Celebration
Apr 23, 2019
ultrafast lasers, Technology Transfer Award, MSU Innovation Celebration, Faculty, Award
Homepage Hero, Alumni, Faculty & Staff, Research, Chemistry, College of Natural Science, Physics & Astronomy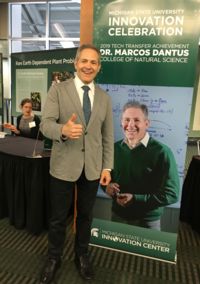 Michigan State University College of Natural Science (NatSci) scientist Marcos Dantus was among the honorees recognized by the MSU Innovation Center at its 9th annual MSU Innovation Celebration on April 18. The event was held at the Huntington Club in Spartan Stadium.
The MSU Innovation Celebration is an annual showcase of innovative Spartan technologies and startups; it also honors MSU researchers and students who have reported an invention, licensed a technology or were awarded patents during the academic year.
Dantus, University Distinguished Professor and MSU Foundation Professor of chemistry and physics, received the 2019 Technology Transfer Award for his work with ultrafast lasers—an innovation that takes a low intensity, long pulse and compresses it to increase its energy. These lasers are ideal for probing and controlling chemical reactions and for use in biomedical imaging and sensing.
During his distinguished career, Dantus's research in ultrafast lasers has contributed to Nobel Prizes in chemistry and physics, and novel applications in the medical and defense industries among others. His lab's research focuses include understanding and controlling chemistry under intense laser field radiation, biomedical imaging and sensing, and development of novel spectroscopic approaches.
Dantus has 47 inventions disclosed, more than 200 peer-reviewed papers, 30 patents and 16 technologies licensed to industry.
"It is an honor for me to receive the Technology Transfer Award and to be recognized for translating scientific discoveries into viable companies that can provide a benefit to society," he said. "The event was full of positive energy as inventors and entrepreneurs at all levels—from undergraduate students to professors—were recognized for their innovation and commercialization accomplishments."
Outside of MSU, Dantus founded the successful MSU spin-out venture Biophotonic Solutions Inc, which develops automation technology to replace otherwise complex laboratory preparation for ultrafast laser pulse techniques. He is also co-founder of KTM Industries Inc, which uses environmentally safe and non-toxic bioplastics like biodegradable foam to develop, manufacture, and market products.
Dantus also has shown the ability to pivot with the technology, taking a method originally intended for microscopes and applying it to use lasers to detect a bomb from more than 40 feet away.
"There is perhaps no better illustration of chemistry as an enabling science than the type of technology transfer for which Marcos was honored," said Rob Maleczka, professor and chair of the Department of Chemistry. On behalf of the department, I congratulate Marcos and the entire Dantus lab for their vision of how ultrafast laser technology can enable positive advances in areas ranging from human health to public safety."
The event also showcased other technologies and startups from MSU students and faculty members.
For more information about the MSU Innovation Celebration, including images and videos of the winners, visit https://technologies.msu.edu/news-events/2019-innovation-celebration.
Banner image: The MSU Innovation Celebration is an annual showcase of innovative Spartan technologies and startups; it also honors MSU researchers and students who have reported an invention, licensed a technology or were awarded patents during the academic year. Photo: Val Osowski
Share this story