NatSci's Program in Mathematics Education, Ph.D. student receive MSU graduate program, student mentor awards
May 30, 2019
community service, mentoring, doctoral student, Program, Award
Homepage News, Faculty & Staff, Research, Students, College of Natural Science, EEBB, Integrative Biology, PRIME
A graduate program and a doctoral student in the Michigan State University College of Natural Science (NatSci) were recently honored by MSU with an Outstanding Graduate Program Community Award and an MSU Graduate School Outstanding Doctoral Student Mentor Award, respectively.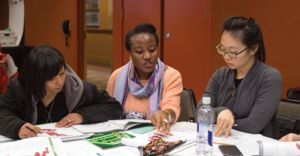 The Program in Mathematics Education (PRIME) received the 2019 MSU Graduate School Outstanding Graduate Program Community Award, which recognizes a graduate program or department that proactively works to ensure that graduate or graduate professional students understand the professional expectations in their field and related disciplines.
PRIME provides a doctoral program for scholars, teachers and students seeking to understand and to improve the teaching and learning of mathematics. The program prepares researchers and leaders to address critical issues in mathematics education by developing analytical perspectives for research, engaging in reflective teaching and deepening mathematical knowledge.
In reviewing PRIME's nomination, the selection committee noted the variety of mechanisms the program uses to deliver excellent mentoring and professional development opportunities to graduate students as well as the student-focused workshops and seminar series offerings, which the committee deemed valuable and intentional regarding the student experience.
The student nominating letter—written by a group that includes students from different current cohorts as well as alumni who are now faculty elsewhere—detailed the thoughtful, multistage mentoring program that includes faculty and peer mentors in career and research mentoring.
"As a PRIME faculty member, I feel tremendous gratitude for the work and attention by all associated with PRIME for creating and sustaining such a supportive and nurturing scholarly community, and pride for being a part of that work," said Ralph Putnam, PRIME director.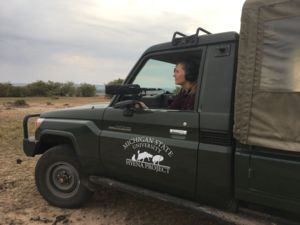 Kenna Lehmann, a graduate student in NatSci's Department of Integrative Biology (IBIO) and the Ecology, Evolutionary Biology, and Behavior Program received the 2019 MSU Graduate School Outstanding Doctoral Student Mentor Award.
This award recognizes a doctoral student who has demonstrated the capacity to be a strong mentor, having engaged in sustained mentoring activities at MSU that help other graduate or undergraduate students succeed in their own research. These activities could be related to a course, a lab, a community research project, and/or field research.
Lehmann's research is focused on the ecology and evolution of the communication system of the spotted hyena. Eight current and former undergraduates, several of whom went on to master's and Ph.D. programs, attested to Lehmann's concern for them both as developing scientists and as individuals. Many remarked that it was her mentorship, more than any other factor in their undergraduate experience, that shaped their professional and personal growth and aspirations.
Lehman said that she is grateful to MSU for supporting and valuing mentoring at every level of education.
"My faculty advisor, Kay Holekamp, is an excellent mentor in her own right and I feel tremendously honored by her nomination for this award," she said. "I was also fortunate to receive great mentorship from my own undergraduate advisor, Gail Patricelli. Great mentors provide mentees with the tools and guidance to be successful, while treating them as capable collaborators."
Lehmann added that she also tries to share her own struggles with her students to demonstrate that all science includes problem-solving, adaptability in the face of adversity and sometimes outright failure.
"I want them to know that problems arise because of the difficulties inherent in the discipline not necessarily because of their own shortcomings," she said. "Science and academia are not for everyone, but I want to make sure all of my students know that they are capable of making their way in the field, if they find that they are passionate about it."
In reviewing Lehmann's nomination, the selection committee noted the many ways she has been actively engaged in mentoring undergraduates in field research, particularly students in IRES (International Research Experiences for Students) programs, and younger students in the community, particularly her work at the Lansing area's Sixth-grade Girls Math and Science Conference.
"It is a privilege and a pleasure to have the opportunity to work with Kenna, as a member of her advisory committee and the chair of her department," said Tom Getty, professor and IBIO chair. "Kenna is a very promising young research scientist. She is an accomplished teacher and she is obviously an effective mentor and role model for our undergraduate students as well as her grad student colleagues. We are very pleased to see Kenna's accomplishments as a mentor and role model acknowledged and honored."
Banner image: The College of Natural Science promotes excellence in research, teaching, and public service across the biological, physical, and mathematical sciences. NatSci is home to 29 departments and programs, 5,500 undergraduate students and nearly 1,000 graduate students, and has 48,000 living alumni worldwide. Photo: Harley Seeley