Quantitative Literacy: An introductory mathematics course that appeals to students
Mar 2, 2018
mathematics, STEM Education, teaching
Exclusive, Homepage Hero, Faculty & Staff, Research, College of Natural Science, Mathematics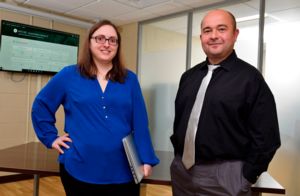 Bronlyn Wassink (left), a specialist in MSU's Department of Mathematics, was hired three years ago to create the Quantitative Literacy (Math 101/102) courses. Pavel Sikorskii (right) is a senior specialist and co-director of undergraduate studies in the department.
How do you know when you have a successful introductory mathematics course? When students say they look forward to coming to class!
And that's just what students are saying about Quantitative Literacy (Math 101/Math 102), which was offered for the first time three years ago. Since that time, more than 2,500 students have taken one or both of the classes, and enrollment continues to grow.
"The students' success rate is very high and we're happy to see that," said Pavel Sikorskii, a senior specialist and co-director of undergraduate studies in MSU's Department of Mathematics.
Several years ago, MSU joined a nationwide initiative to move toward including quantitative literacy (QL) courses in its curriculum.
"The goal was to really look at the gateway curriculum and design mathematics courses that are appropriate and most relevant to the future careers that students are pursuing," Sikorskii said. "If students see that what they're doing in their math course is relevant and applicable to their interests and their future careers, then they will respond better and will do well."
The quantitative literacy courses—an alternative to college algebra—were developed for students who are not in technical majors and don't necessarily need to take algebra and calculus coursework to fulfill MSU's math requirements for graduation.
"The undergraduate population at MSU is very large and very diverse, and one size does not fit all when it comes to introductory mathematics," Sikorskii added.
The course has constantly evolved since the first time it was taught, according to Bronlyn Wassink, a specialist who was hired three years ago to create it.
"Almost every semester we have at least a partially redesigned course," she said. "And I think every semester it's getting better."
"Developing a course like this is not a one-shot deal," Sikorskii said. "It's a dynamic process. Our QL team constantly develops course materials that are relevant and up to date."
The course is taught in a lecture plus small recitation format. In recitations, students engage in collaborative and active learning.
"We also gather attendance data," Wassink said. "If a student misses two lectures, they're going to get an e-mail from me; so he or she will know that I'm paying attention. I want them to know they are not 'just one of my 400 students.'
"Our primary focus is to ensure that all our students have the resources necessary for success," Wassink added. "Another goal is to identify the students who understand the coursework very well and need a challenge. We want to provide them with enhanced materials, to bring their learning experience to a higher level."
"The mathematics department is committed to providing the highest quality of education to MSU students and continues to invest into improving our courses and programs at all levels," Sikorskii said.
For more information on the research and activities taking place in the MSU Department of Mathematics, visit their Winter 2018 newsletter.
Banner image courtesy of MSU.