Undergraduate conference empowers female physicists
Jan 28, 2019
undergraduate, women in physics, conference, event
Homepage News, Faculty & Staff, Research, Students, College of Natural Science, Physics & Astronomy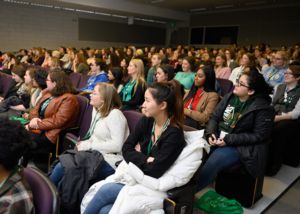 Hundreds of women who are enrolled in physics programs across the United States recently attended the Conferences for Undergraduate Women in Physics (CUWiP). More than 150 of them gathered on the Michigan State University campus to attend the Midwest regional session—one of 12 regional conferences held simultaneously across the country Jan. 18-20. Organized through the American Physical Society (APS), they are designed to support women in physics and foster professional development.
"Only about 20 percent of physics bachelor's degrees in the United States are awarded to women," said Vashti Sawtelle, an MSU assistant professor who holds joint appointments in the Department of Physics and Astronomy in the College of Natural Science and Lyman Briggs College, and who served as faculty advisor for MSU's CUWiP conference. "This means that if you are at a small school, you might be the only woman in the entire program. Coming to a conference like this, where you are sitting in a room with 150 women who are all physicists—it's a really powerful experience."
During the three-day conference, the students networked; attended a poster session; toured MSU's National Superconducting Cyclotron Laboratory, physics department labs and the planetarium; and heard presentations from a lineup of more than 50 physicists and industry professionals.
"These conferences bring in speakers and workshop leaders who address what it's like to be someone who is underrepresented in the field, and talk about what it's like to persevere through that, and why it matters," Sawtelle said.
This is the first time a CUWiP conference has been held at MSU.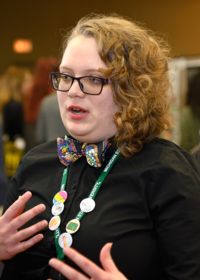 "Women are chronically underrepresented in physics," said Claire Kopenhafer, a second-year graduate student at MSU and co-chair of the conference. "It's very easy to feel isolated and lonely, and think that your struggles are unique to you. Conferences like this allow students to meet other women in physics, realize they are not alone, and learn professional skills and life skills to help battle the challenges we are all going to face."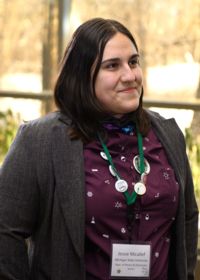 "As an undergrad, when I went to my first CUWiP conference, I was told it was important; but I didn't really feel I needed to go to a women in physics conference," said Jessie Micallef, now a third-year graduate student at MSU and co-chair of the conference. "But as soon as I attended, I learned to network, I went to a lot of workshops, and I felt even more empowered. I had not even realized there was a name for something I was feeling—imposter syndrome (the fear that you're not as intelligent or capable as others may think you are). These conferences are really eye-opening for a lot of women."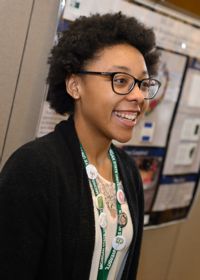 Aalayah Spencer, an MSU junior who works in the lab of Hendrik Schatz, director of the Joint Institute for Nuclear Astrophysics – Center for the Evolution of the Elements (JINA-CEE), attended for the first time and also presented a poster at the conference.
"When I was in high school, I knew I wanted to be in nuclear astrophysics; I came to MSU because of JINA," Spencer said.
She said the most valuable part of the conference for her was the workshops.
"I especially enjoyed the resume and the networking/LinkedIn workshops," Spencer said. "They allowed me to understand how to better portray myself in the professional world—something I felt I really needed."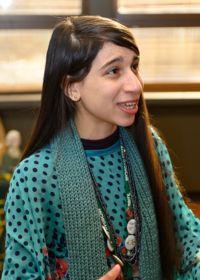 Ebtihal Abdelaziz, a freshman international student at Goshen College in Indiana, also attended for the first time.
"In my department, we have just two women. To come here and see that there are hundreds of us, that's so reassuring," Abdelaziz said. "We can exchange ideas. We can share what we are doing. It's just so cool!"
Abdelaziz also attended the planetarium tour, which she described as "Mind-blowing! Fascinating!"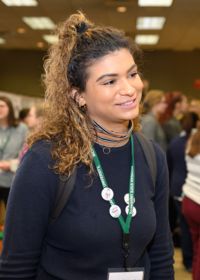 Tianna Richardson, a senior at the University of Michigan, attended for the second time.
"Last year, as a junior, I went to my first CUWiP conference," Richardson said. "I was about to make the important choice of graduate school or industry. There were multiple panels about both. I decided to go the industry route. That was a big change in my life—sparked by a CUWiP conference."
As the result of attending this year's conference, Richardson said she may be interested in pursuing a master's degree in the future. "Every time I come to CUWiP, I learn about new paths I could take, and opportunities like Ph.D. bridge programs, which might be a good fit for me," she said.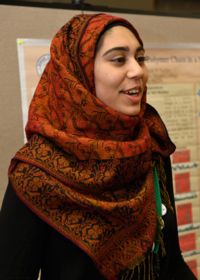 For Norah Ali, a junior at Hiram College in Ohio, this was her third CUWiP conference. She said she completed three years of undergraduate work through a community college while she was still in high school, and then entered a traditional college program. "By the end of fall semester of freshman year, I was really burned out," Ali said. "Then I came to CUWiP. It was refreshing to see everybody excited about physics. Ever since then I've been applying to come to CUWiP. I come here and I get that physics revival that I need!"
"I would definitely encourage others to come to CUWiP—at least once," Ali added. "Having this opportunity to meet others—to connect and network with women who are already in the working world—is really valuable. Just hearing how everybody struggles through stuff, and how it all turns out okay. . . it's reinforcing. The struggle is part of the process."
Any undergraduate student at a U.S. institution is invited to apply to attend an APS CUWiP conference. This year's registration fee was $45 per student, which included lodging and meals. A pre-conference workshop in professional development was also offered at no additional cost.
"As a faculty member, I have sent students to these conferences and they have come back and said, 'I am going to be a physics major; I am now sure that this is what I want to do.' It really is a transformative experience for them," Sawtelle said.
"My sense of pride as a physicist has increased [because of this conference]," Abdelaziz said. "Coming to conferences like these help us feel like we belong. And maybe one day, we can be an inspiration to others—like all these wonderful women here today."
Banner image: Rachel Henderson, a physics and astronomy postdoctoral researcher who was part of the local organizing committee for MSU's CUWiP conference, takes in one of the workshops offered at the event. Photo by Harley J. Seeley.