Victor DiRita elected to lead prestigious life science society
Jan 15, 2019
American Society for Microbiology, national organization, elected officer, Faculty
Homepage News, Faculty & Staff, Research, College of Natural Science, Microbiology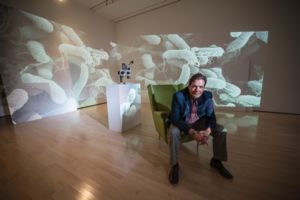 Victor DiRita, Rudolph Hugh Endowed Chair in microbial pathogenesis and chair of the Department of Microbiology and Molecular Genetics at Michigan State University, was recently elected to lead one of the largest life science societies in the world, the American Society for Microbiology (ASM). He will serve a one-year term as president-elect beginning July 1 and will then become president in July 2020.
"The work ASM does through its conferences, journals and education efforts has been a great benefit to my career since I joined as a graduate student," said DiRita, who has been a member for the past 32 years. "Being called to serve in various ways within the society has also been a privilege and serving as president is the ultimate expression of that."
Among other responsibilities, the ASM president leads the ASM Board of Directors, which promotes the mission and strategic direction of the society, as well as handling all legal, financial and governance matters.
"I have seen great, positive impacts from the ASM on the careers of many friends and colleagues," DiRita continued. "A particular honor in serving as ASM president from MSU is following in the green and white footsteps of Jim Tiedje and Phil Gerhardt, two other MSU microbiologists who served as ASM president."
DiRita's research focuses on uncovering microbial pathogenicity mechanisms, including host-microbe-microbiome interactions, in a range of bacteria including, Vibrio cholerae, Campylobacter jejuni, and Enterobacter cloacae. He aims to develop and apply novel molecular and genetic technologies and to design innovative approaches for discovering new therapeutics.
"Microbes are studied and exploited as machines, energy, food, pathogens, medicines, teaching tools and on and on," DiRita said. "Clinical microbiologists are applying diagnostic methods that were unheard of in the clinic 10 years ago, thereby directing rapid and advanced treatment of infectious diseases. If I can contribute in significant ways to promoting and advancing microbiology, then that will be a satisfying contribution."
In addition to his National Institutes of Health (NIH) and U.S. Department of Agriculture-supported research programs, DiRita has held several leadership positions throughout his career. He was program director of the NIH-funded Molecular Mechanisms in Microbial Pathogenesis Training Program at the University of Michigan, chair of the 2008 Gordon Research Conference on Microbial Toxins and Pathogenicity, and currently serves as editor for ASM's Journal of Bacteriology.
DiRita is also dedicated to training undergraduates, graduate students and postdoctoral fellows in the lab toward developing their own path to a future in microbiology.
"The ASM has a simple, yet profound, mission statement: 'To promote and advance the microbial sciences,'" DiRita said. "As president, then, my mission is that mission: engaging the public, supporting the careers of those in the next generation and providing a forum for discovering and disseminating new knowledge. I anticipate working in those areas as ASM president."
With more than 30,000 members, the ASM includes researchers, educators and health professionals. The society explores the spectrum of microbiology through collaborations with academic, regulatory and industrial communities to help find solutions to pressing public health issues and to advocate for evidence-based policy and excellence in scientific practice.
For more information about the ASM, visit https://www.asm.org/.
Banner image: The American Society for Microbiology, originally the Society of American Bacteriologists, is a professional organization for scientists who study viruses, bacteria, fungi, algae, and protozoa as well as other aspects of microbiology. Photo courtesy DiRita lab.