Plant Biology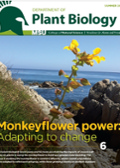 2022 Plant Biology Newsletter
How biodiversity evolves in the first place is what plant biologist David Lowry has spent his career studying. One of the key plant model systems used by Lowry's lab to conduct this research is the monkeyflower. Their current research focuses on understanding how coastal monkeyflower populations evolved to avoid, resist and tolerate salt spray. Ultimately, the work will expand understanding of plant evolution and plant resilience in challenging environments, with potential applications for agricultural crops.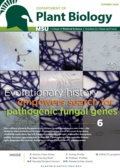 2020 Plant Biology Newsletter
Although spores are the microscopic seeds of the fungal world, little is known about the genes that govern germination and the infectious potential of pathogenic fungi. Check out our feature story on NatSci professor Frances Trail, part of a team of scientists recently awarded a $4 million NIH grant to study fungal evolution; read a giving profile on distinguished professor emeritus John Ohlrogge; and learn more about our newest faculty and staff members and other department activities in our 2020 newsletter.