Life as a Second Semester Senior
What is it like to be graduating this year? Tears. Lots of tears. That's the only way I can express how I feel knowing that this is my last semester at Michigan State University.
Maybe a little bit of denial too because there's no way that the past 3.5 years have flown by as fast as they have. Even though I frequently find myself tearing up, thinking that in 4 months I'm going to have to say goodbye to the place and people that have been my home for the last 4 years, it is my goal to make the most of everything that MSU has to offer with my limited time left.
So to my fellow graduating seniors out there, take advantage of late night at the Union, basketball games in the Izzone, and living in the city where you can get any food or Uber pretty much 24/7. Take advantage of living with your best friends or being a 10-minute walk from all the rest. Most of all, take advantage of the feeling of belonging you've had here by knowing that wherever you are, there is always another Spartan that has your back. Wherever graduation takes you, whether that be professional school or on a trip around the world, always remember to Go Green!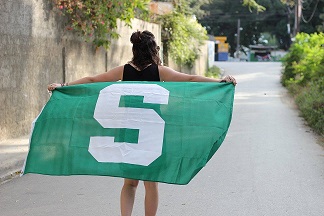 By Sydney