Hawaii Environmental Science
Study Away Hawaii: Explore island biology, geology, ecology and evolution!
NOT RUNNING UNTIL 2019; CHECK HERE FALL SEMESTER FOR DETAILS.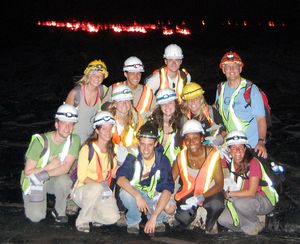 TAKE IN Hawaiian culture, history and a traditional LUAU
CONSIDER the impact of humans on the environment
SENSE THE POWER of an active volcano - KILUHEA
FIND native freshwater organisms under a 400 ft waterfall
SNORKEL + HIKE around four Hawaiian Islands
KAUAI – Waimea Canyon, Na Pali Coast, Wailua River, Hanalei Valley
HAWAII – Volcanoes National Park, Mauna Kea, City of Refuge, Akaka Falls
MAUI – Haleakala, Road to Hana, Iao River
And OAHU!
EARN 6 CREDITS: NSC 476, 491, 390; PLB 490; ISB 202, 208L
MORE INFO
GET MORE INFO from Instructors
Jeanette McGuire, Integrative Biology mcguir35@msu.edu
APPLY ONLINE natsci.msu.edu/study-away-application
SCHEDULE YOUR INTERVIEW NOW!
ESTIMATED COSTS
Program Fee: $2,700*
Tuition: (6 credits @ your current level)
Personal Expenses: $1,500
*2018; 2019 fees TBD