Michigan Careers at the Zoo
Study Away Michigan: Binder Park Zoo
"To nurture empathy, understanding and conservation of Nature."
Summer 2018 (May 15 - June 28, 2018)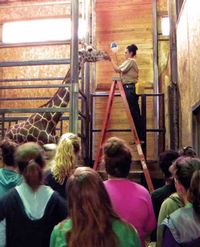 WORK ALONGSIDE STAFF IN EVERY PROFESSION at Binder Park Zoo in Battle Creek: animal care, animal health, education, graphics, physical plant, business, marketing, guest services, conservation.
SEE HOW individuals and teams support the Binder Park mission every day.
APPLY WHAT YOU'VE STUDIED: Zoology, Fisheries + Wildlife, Education, Animal Science, Resource Conservation, Parks/ Recreation, Landscape Architecture, Comm Arts, Marketing.
REALIZE how your MSU degree can move you toward a career in a zoo or aquarium.
EARN 4 CREDITS: IBIO 390 701 Zoo Practicum
You can start enrolling in the course March 11, 2019.
2 full days/week at the zoo