Earth and Environmental Sciences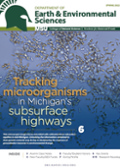 2022 Earth and Environmental Sciences Newsletter
Just as each geologic era leaves its imprint on the earth, so too has the pandemic left its mark on our personal and professional lives. Perseverance has been the word of the past two years. But thankfully, as we wrap up our second academic year with COVID-19, the Department of Earth and Environmental Sciences (EES) finds itself thriving and growing.
Our talented faculty have brought in a record number of externally funded research grants, which has fueled an expansion in our graduate program. This is exactly what we were aiming for with the revitalization of the department since 2010—a multi-year process of hiring new faculty members that was made possible by generous donations of our alumni.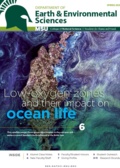 2020 Earth and Environmental Sciences Newsletter
Climate change is warming the planet's waterways and over the past 50 years, low-oxygen zones have proliferated on coastal and open oceans as a result. Check out our feature story on NatSci paleo-oceanographer Dalton Hardisty's $1 million NSF grant to study the impact of suboxic zones on marine life, read a giving profile on Clay (B.S., geology/igneous petrology, '72) and Nancy Hunter, and learn more about our newest faculty and staff members and other department activities in our 2020 newsletter.