Darla Martinez: The rewards of undergraduate research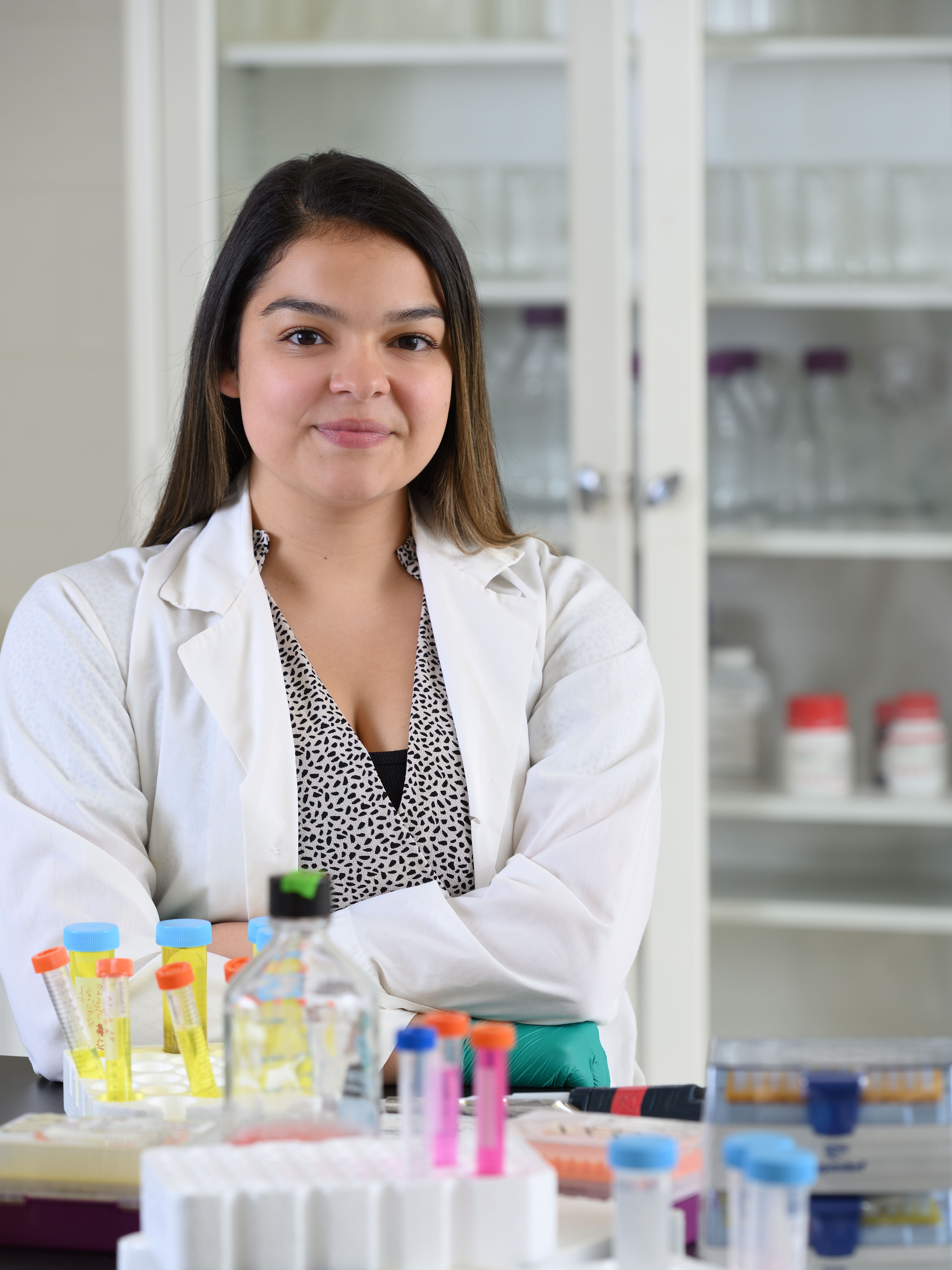 Darla Martinez is a senior majoring in biochemistry and molecular biology from Saginaw, Mich., and a College of Natural Science Dean's Research Scholar.
Coming to Michigan State University as a freshman, I was eager to not only begin my course work but was looking forward to searching for exciting and unique research opportunities I could potentially be a part of. I came to MSU with an extensive research background—I had participated in two summer internships for the American Chemical society through a program called Project SEED, where I conducted research on water quality, and was also conducting my own research at school that I presented at local science fairs.
Because of these experiences, research was something that had become very important to me, and I wanted to make sure I was able to continue it during my time in college. When I first started out, I had a hard time finding a position, but I never gave up and continued to apply to any opportunity I found.
Finally, at the beginning of my junior year, I was contacted by Professor Kaminski's lab on campus and was offered a position as an undergraduate research assistant. I was beyond excited to get back into the lab and start my own project, especially since the research in the lab was something I had never worked on before. My research focused on immunotoxicology, and my project looked specifically at how the expression of a gene called BTN2A2 changes and what influence CBD potentially has on its expression. I was excited to expand my skillset and learn new lab techniques.
My job as an undergraduate student researcher has been the most rewarding part of my time at MSU. It has allowed me to be a part of many wonderful opportunities, including being eligible to receive scholarships. One of the main research opportunities afforded me was being a part of the Deans Research Scholars' (DRS) Program in the College of Natural Science. This program has allowed me to receive financial assistance toward my degree and to be a part of an outreach network for the college in which I could talk with alumni and donors about how research has benefited me and about the current status of research occurring at MSU. The DRS program has also allowed me to connect with other students who share the same passion for research, and I was able to network with them to learn about new areas of research being offered. This aspect was very important to me when submitting my DRS application because—due to the COVID-19 pandemic—half of my time at MSU was spent online, so having interactions and meeting new people was important.
My time working in my lab has also allowed me to solidify my future direction after graduation in a career in the biotech/pharmaceutical industry.
Published: January 13, 2023