François Greer named inaugural Van Haften Endowed Professor in Deductive Literacy
Release Date: Nov 10, 2022
Listen to article
Michigan State University mathematician François Greer, assistant professor in MSU's College of Natural Science (NatSci), was recently honored as the inaugural Van Haften Endowed Professor in Deductive Literacy. An investiture ceremony congratulating Greer was held Nov. 3 at MSU's Wharton Center.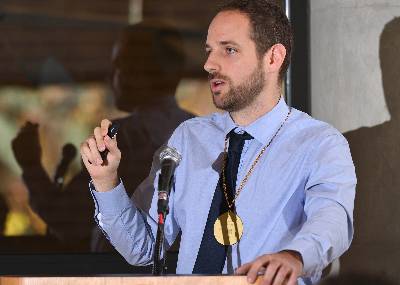 Greer, a leading young figure in the field of algebraic geometry, studies enumerative algebraic geometry, modular forms and Hodge theory. He received his Ph.D. from Stanford in 2017 and held distinguished postdoctoral positions at the Simons Center for Geometry and Physics at Stony Brook and at the Institute for Advanced Study in Princeton, New Jersey. He joined MSU's mathematics department in August 2021.
Dan Van Haften, who received B.S. and M.S. degrees in mathematics from MSU in 1970, established the endowed professorship in honor of his parents, the late James and Esther Van Haften, who set a lifelong example of support for learning.
"This endowed professorship, which Dan has so generously endowed, aims to support 'deductive literacy' in the modern world, bringing awareness of logical thinking to many disciplines," said Jeffrey Schenker, chair of the MSU Department of Mathematics. "François is an excellent mathematician and a well-rounded professor. This professorship allows us to recruit a really excellent person and provide them with some acknowledgement, some extra resources at the beginning of their career where they can develop that into something very successful."
Greer's work in cutting-edge fields has already been published in some of the top journals in mathematics. He is an engaged teacher, has directed an undergraduate research group and co-organized the math department colloquium in 2021-2022.
"The bestowing of this professorship to Dr. Greer will help guarantee Michigan State's continued capacity to enhance its national and international reputation in algebraic geometry and ensure that students receive rigorous and rich classroom experiences around topics in this important and growing field," said Phil Duxbury, NatSci dean.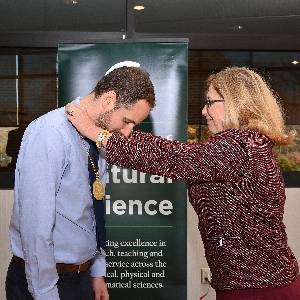 "I am delighted to be here today to recognize and congratulate Dr. François Greer on his installation as the inaugural Van Haften Endowed Professor in Deductive Literacy," said Teresa K. Woodruff, MSU interim president. "Today's investiture underscores the importance of endowed funds and endowed faculty members to the university."
"I want to thank Dan for establishing this chair in deductive literacy. To determine the truth and to convince others of that truth, deductive thought is an indispensable tool," Greer said. "It's very humbling to be named the first Van Haften Professor. I do feel a strong mandate to carry on these high ideals that Van Haften stands for."
After a 37-year career at Bell Laboratories, AT&T, Lucent, and Alcatel-Lucent, Van Haften retired in 2007 and started a new endeavor—studying the application of mathematical principles in thinking, writing and argument.
Van Haften and his lifelong friend and fellow MSU alumnus David Hirsch, a practicing attorney, authored a book—Abraham Lincoln and the Structure of Reason—which was published in 2010. This work rekindled Van Haften's passion for geometry and Abraham Lincoln.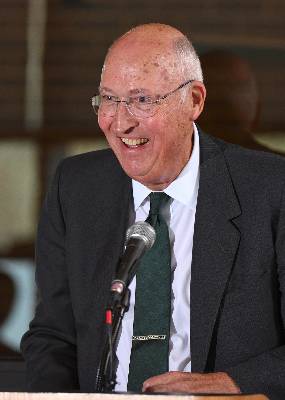 When Van Haften was attending a dinner in 2017 with Keith Promislow, former math department chair, Promislow asked rhetorically, "Is it more important that Michigan State freshmen know how to solve quadratic equations, or that they know how to think and write logically?" Promislow answered his own question: "It's more important that Michigan State freshmen know how to think and write logically."
At that moment, Van Haften was inspired to establish the Van Haften professorship, with the goal of planting a seed for connecting mathematical logic with writing across the university.
"Dr. Greer is a wonderful choice for this professorship; he has great academic credentials based on his work at Stony Brook and Princeton," said Van Haften, who gave remarks at the investiture. "It took a couple of years to find the right person [for the professorship] . . . It's a joy to have Dr. Greer as our inaugural Van Haften professor."
"I am confident that Dr. Greer will continue making significant contributions to his field, and that he will play a strong leadership role at MSU, both as a faculty member and as a mentor to the next generation of leaders through undergraduate research and programs," Woodruff added.
Banner image: (L to R): NatSci Dean Phil Duxbury, Dan Van Haften, Van Haften Endowed Professor François Greer, MSU Interim President Teresa K. Woodruff, mathematics department professor and former chairp Keith Promislow, and Department of Mathematics Chair Jeff Schenker pose for a group photo following Greer's investiture ceremony to honor him as the inaugural Van Haften Endowed Professor in Deductive Literacy. Credit: Harley J. SeeleyFrançois