Results-oriented commitment to diversity, inclusivity earns KBS honor
Listen to article
Michigan State University's Kellogg Biological Station (KBS) has been named a national and international role model for its quantifiable commitment to diversity, equity and inclusion in the organization and its people.
The Organization of Biological Field Stations (OBFS) is honoring KBS with the 2022 Advancing Equity Award for its across-the-board dedication to an inclusive environment.
"The depth and breadth of work related to IDEA+ (Inclusion, Diversity, Equity and Accessibility) initiatives, as well as your commitment to IDEA+ through programs, job positions, partnerships, and funding is inspiring and commendable," the award review committee noted. "The committee believes the work you are accomplishing at your station is a great model for other OBFS member stations seeking to continue working to advance equity."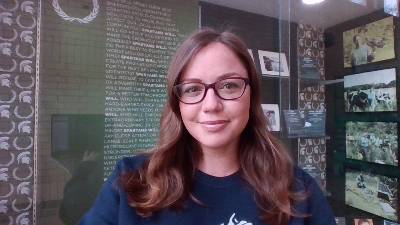 KBS – which is affiliated with the MSU College of Natural Science (NatSci) and the College of Agriculture and Natural Resources (CANR) – has a long history of addressing diversity, equity and inclusion (DEI) from faculty hires to student recruitment to broadening participation in outreach programs. Sarah Roy, KBS academic programs coordinator and the DEI advocate, said this honor focused on the past five years with success springing from a KBS community with both passion and energy for creating change.
"It has been really important that we're fostering an inclusive environment," Roy said, adding KBS leadership has been committed to the efforts. "Everyone feels like they have a seat at the table and are involved in important decisions being made and feel they can speak about them. It's a community where people trust one another and listen to one another."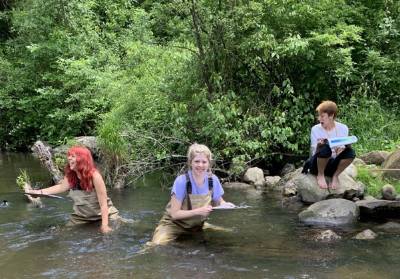 The station laid a foundation with a series of programs and actions to build an inclusive community, including forming a Culture and Inclusion Committee in 2017, developing a code of conduct, and conducting a climate survey, with results presented to the community. These efforts were facilitated by two MSU Creating Inclusive Excellence grants awarded to members of the KBS community in 2019, 2021 and 2022.
KBS also designated a team focused on improving website accessibility to comply with the Americans with Disabilities Act and Web Content Accessibility guidelines.
"We at KBS are incredibly pleased with this recognition from the OBFS," said KBS Director Fredric Janzen. "It really validates externally what we continue to fight to achieve at KBS, which is to seek excellence through enhancing and supporting diversity. Various initiatives undertaken the past few years at KBS have been seamlessly integrated into enhancing DEI efforts in myriad ways so that we can serve as a positive example for other MSU units."
The 2021-2022 new faculty reflect the KBS commitment to inclusive hiring. All five are from groups historically underrepresented in STEM. The Research Experience for Undergraduate program 2018-2021 cohorts are composed of 57% underrepresented minorities, 67 percent students from research-limited institutions, and 32 percent first-generation college students.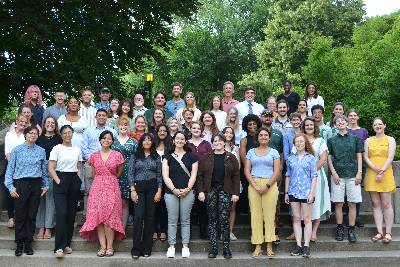 That success, Roy said, creates more as new members "have this inclusivity as a core value."
"We all benefit when a group succeeds and leads in advancing these truly core values" said Phillip M. Duxbury, NatSci dean. "This prestigious and meaningful recognition will inspire more commitment to diverse STEM excellence across the college and university. Hearty congratulations to the KBS community for this much deserved award."
"On behalf of my CANR colleagues, I'm so proud of the tangible advances in diversity, equity and inclusion – on every level – that the KBS team has made over the past several years," said Kelly Millenbah, CANR dean. "I'm glad that their peer organizations have recognized their impressive efforts."
The OBFS Advancing Equity Award includes a travel reimbursement of up to $1,000 for Roy to attend the next in-person annual OBFS meeting, as well as a permanent plaque for the station and a traveling OBFS plaque recording current and previous winners to be housed at KBS for one year.
OBFS is a nonprofit organization representing 200 field stations and research centers across the United States, Canada and Central America to improve their effectiveness in research, education, and outreach.
Banner image: KBS 2022 summer undergraduate researchers, interns, and their mentors. This photo was taken before the end of the summer KBS Undergraduate Research and Internship Symposium, where students present their summer projects during a two-hour poster session that is open to the public. Courtesy of KBS