Guowei Wei inducted into prestigious AIMBE College of Fellows
Release Date: Mar 28, 2023
Listen to article
Michigan State University Research Foundation Professor Guowei Wei has been inducted into the prestigious American Institute for Medical and Biological Engineering (AIMBE) College of Fellows. Wei was among 140 colleagues inducted who make up the class of 2023.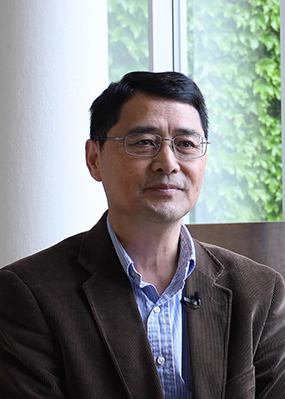 Election to the AIMBE College of Fellows is among the highest professional distinctions accorded to a medical or biological engineer. The college is comprised of the top two percent of faculty members in these fields. Membership honors those who have made outstanding contributions to "engineering and medicine research, practice or education" and to "the pioneering of new and developing fields of technology, making major advancements in traditional fields of medical and biological engineering or developing/implementing innovative approaches to bioengineering education."
Wei was nominated, reviewed, and elected by peers and members of the College of Fellows "for outstanding contributions in mathematical molecular biosciences and drug discovery, and for predicting variants, infectivity, and vaccine breakthrough of SARS-CoV-2."
"As a Fellow of AIMBE, one has the responsibility to play an active role in advancing the field of medical and biological engineering," said Wei, a professor in the Departments of Mathematics and Biochemistry and Molecular Biology in the MSU College of Natural Science (NatSci). "I look forward to continuing to contribute to the development of innovative solutions to some of the most pressing challenges in healthcare and beyond."
Phil Duxbury, NatSci dean, offered his congratulations, saying, "Dr. Wei has established an extraordinary leadership position in developing and applying novel mathematical approaches, AI and machine learning to some of the most challenging biological questions and biomedical challenges of our time. His research program advances fundamental science while contributing innovative ideas and insights into central problems such as COVID vaccine development, protein folding and drug discovery. He is truly deserving of this high honor."
"This national recognition of Dr. Wei's scholarship attests to the high caliber and transformative impact of his cumulative research contributions," said MSU Interim Provost Thomas D. Jeitschko, Ph.D. "We are delighted that Dr. Wei is being inducted into this prestigious organization, which acknowledges him as an exemplar in the field of medical and biological engineering."
A formal ceremony was held during the AIMBE Annual Event at the Renaissance Arlington Capital View Hotel in Arlington, Va., on March 27.
AIMBE is the authoritative voice and advocate for the value of medical and biological engineering to society. AIMBE's mission is to recognize excellence, advance public understanding, and accelerate medical and biological innovation. No other organization can bring together academic, industry, government, and scientific societies to form a highly influential community advancing medical and biological engineering.
Banner image: MSU Research Foundation Professor Guowei Wei was among 140 colleagues who make up the AIMBE College of Fellows class of 2023. Wei was nominated, reviewed, and elected by peers and members of the College of Fellows "for outstanding contributions in mathematical molecular biosciences and drug discovery, and for predicting variants, infectivity, and vaccine breakthrough of SARS-CoV-2." Credit: Gerd Altmann/Pixabay