NatSci faculty members, graduate student honored, celebrated at MSU Awards Convocation
Release Date: May 10, 2023
Listen to article
The achievements of Michigan State University's faculty and staff, their research and their contributions were recognized with the presentation of 10 distinguished awards during the 2023 MSU Awards Convocation on May 8 at the Kellogg Hotel and Conference Center.
Three College of Natural Science (NatSci) faculty members and one graduate student were among 33 faculty and staff members who received 2022-23 awards in recognition of their outstanding contributions to education and research.
Two NatSci faculty members, Robert Maleczka and Angela K. Wilson, received the William J. Beal Outstanding Faculty Award. Supported by the Office of University Development, this award honors its recipients for a comprehensive and sustained record of scholarly excellence in research and/or creative activities, instruction and outreach: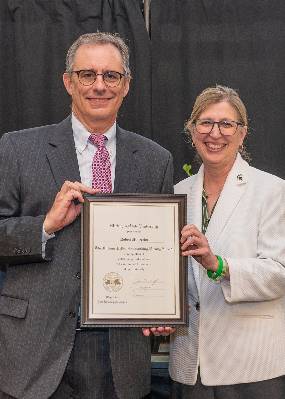 For Maleczka, a professor in the NatSci Department of Chemistry, research, teaching, and service are seamlessly interwoven. An overarching theme of his research is green chemistry, with a focus on organic molecules containing boron, silicon, or tin. The breadth of his scholarship is witnessed by publications (90 at MSU) and patents (16) on topics ranging from fundamental studies on molecular rearrangements to new strategies for the construction of inorganic-organic hybrid materials with possible aerospace applications. In the land-grant tradition, green reactions invented by Maleczka and his collaborators are now commonplace in academic and industrial labs around the globe.
Maleczka's research group is an inclusive environment where researchers from diverse backgrounds find success. He has been continuously funded by the NSF, NIH and other foundations and corporations since 1998. Among the honors he has received, Maleczka considers being named Mentor of the Year by the National Organization for the Professional Advancement of Black Chemists and Chemical Engineers, MSU Chapter, among the most special. He is a fellow of the American Chemical Society and the American Association for the Advancement of Science and has been elected to multiple national society positions and is currently a member of the National Academies of Sciences, Engineering and Medicine's Chemical Sciences Roundtable.
"For his original, groundbreaking research and commitment to green chemistry, his extensive service to MSU and his profession, his commitment to student learning at both the undergraduate and graduate levels, and his excellent mentoring of graduate students and postdocs, Robert Maleczka is richly deserving of the Michigan State University William J. Beal Outstanding Faculty Award."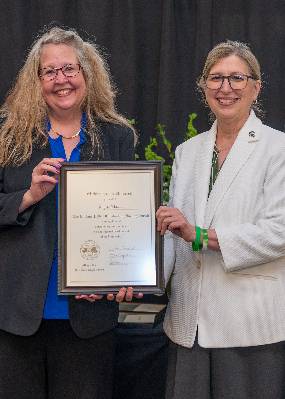 Wilson, John A. Hannah Distinguished Professor of chemistry in the NatSci Department of Chemistry, is an internationally renowned leader in quantum mechanics, specifically in the development, understanding and application of methodologies for thermochemistry. She is also one of the world leaders in the development of the widely used correlation consistent basis sets for quantum chemistry computations and has invented the correlation consistent Composite Approach, a computational tool that provides an accurate description of thermochemical properties across the periodic table at reduced computational costs. Her research also encompasses drug discovery, environmental chemistry, catalysis, thermodynamics, and sustainability, addressing some of the most daunting environmental and human health challenges.
Wilson is an excellent mentor and strong advocate for students and early career scientists. She has mentored more than 150 students and postdoctoral fellows, with 25 of her students earning Ph.D.s and five earning M.S. degrees. She has led initiatives on success strategies, careers, and leadership for undergraduate and graduate students, early career faculty and future faculty from populations underrepresented in STEM. To advocate for diversity, equity, and inclusion, she has helped lead an international recognition program for women and STEM outreach activities, locally and nationally.
Wilson was named one of the five most influential women chemists and one of the 40 most influential women in STEM in the past decade. Some of her honors include induction into the Michigan Women's Hall of Fame; being named a fellow of the American Chemical Society (ACS), American Physical Society, and American Association for the Advancement of Science (AAAS); and receiving the International Union of Pure and Applied Chemistry Distinguished Woman in Chemistry Award. She has held top national and international science leadership roles including leading the NSF Division of Chemistry, serving as president of the Physical and Biophysical Chemistry Division of the International Union of Pure and Applied Chemistry, chemistry section chair of AAAS and president of ACS. She is the first scientist to hold top roles in all four leading scientific organizations.
"For her significant accomplishments as an international scholar in theoretical and computational chemistry, a leader in national and international scientific organizations, and a committed mentor and advocate for diversity, equity, and inclusion in research, Angela K. Wilson is richly deserving of the Michigan State University William J. Beal Outstanding Faculty Award."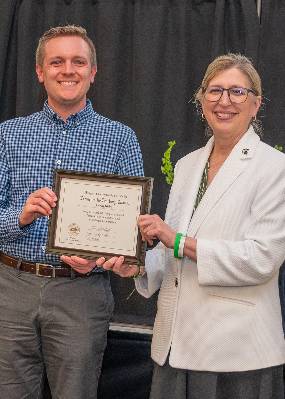 Joseph Riedy, a doctoral candidate in the NatSci Department of Integrative Biology and the Biological Sciences Program, received an Excellence-in-Teaching Citation. These are awarded to graduate teaching assistants who have distinguished themselves by the care they have given and the skill they have shown in meeting their classroom responsibilities. The awards are supported by the Office of University Development.
Riedy researches the variation in levels of larval lake sturgeon predation and its association with behavior and environmental conditions. His teaching philosophy centers on engaging students in learning by not only focusing on the course concepts but also their application and importance to science and life.
Riedy's enthusiasm for teaching and sincere interest in student success stood out to faculty he worked with, and he was personally recruited to teach in the honor's sections of the Organismal Biology Laboratory. This enthusiasm was also recognized by his students, one of whom commented, "For the class research project, Mr. Riedy was very organized and supportive. When my group felt confused about how to analyze our data, he led us to a methodology that best suited our research question. He did not tell us what to do but advised us on the best way to do it. By displaying a thorough understanding of the course content and the mathematics behind it, Mr. Riedy was able to guide our group to the right path, leading, ultimately, to a very successful project."
Riedy is further developing his background in undergraduate learning pedagogy through the Scholarship of Undergraduate Teaching and Learning (SUTL) Program that he participates in. He frequently considers how his SUTL research can be applied in the biological science courses to improve student-learning outcomes.
"For his excellent research promise, his commitment to work with faculty to ensure successful teaching from a variety of platforms, and his excellent ability to engage students with course material both in person and online, Mr. Joseph Riedy is sincerely deserving of the Michigan State University Excellence-in-Teaching Citation."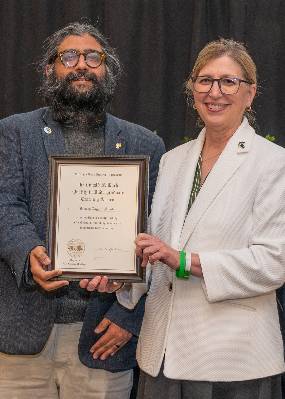 Jaideep Taggart Singh, associate professor in the NatSci Department of Physics and Astronomy, received this year's Donald F. Koch Quality in Undergraduate Teaching Award, which honors and recognizes teachers who take pride in and are committed to quality undergraduate teaching and who demonstrate substantial continuing involvement in undergraduate education. The is supported by the MSU Alumni Club of Mid-Michigan and by Donald F. Koch and Barbara J. Sawyer-Koch.
As a researcher, Singh applies atomic, molecular, and optical physics techniques to answer fundamental questions in nuclear and particle physics; he is also passionate about creating, manipulating, and detecting spin-polarized nuclei. Additionally, from the outset of his career, Singh has demonstrated a commitment to teaching, requesting to be sent to the American Physical Society's New Faculty Workshop (NFW) almost immediately upon beginning his career at MSU. NFW leverages both evidence-based teaching approaches and well-established educational technologies to support new faculty members in instruction. Singh's attendance at this course was instrumental in developing his mode of classroom instruction.
SIngh also attended a three-day workshop on writing across disciplines that he used to revise the Advanced Laboratory class course for physicists (AdvLab). As one of his colleagues noted, "His [Dr. Singh's] instruction has become aligned with how students learn and engage with physics ideas."
Another colleague stated, "[Dr. Singh's] efforts are not driven by anything other than his compassion for the students he teaches. His appointment in FRIB is such that his evaluation is focused chiefly on the research he has done and the service he does for the lab; working to become an excellent instructor is something that he does because he cares about students' experiences deeply."
"For his unwavering commitment to excellent and innovative science teaching, while continuing to conduct brilliant research, Jaideep Taggart Singh is greatly deserving of the Donald F. Koch Quality in Undergraduate Teaching Award."
For more information on this year's awards and a complete list of ward recipients, visit the MSU Today story.
Banner image: Pictured above are attendees at the 2023 MSU Awards Convocation held on May 8 at the MSU Kellogg Hotel and Conference Center. Ten distinguished awards were presented to 33 faculty and staff recipients. Credit: Derrick Turner, University Communications