Before our very eyes: Species rarity and extinction in Michigan's Kalamazoo County
May 6, 2019
plant vulnerability, plant-microbe interaction, Plant science, Research, graduate students
Homepage News, Faculty & Staff, Research, Students, College of Natural Science, Kellogg Biological Station, Plant Biology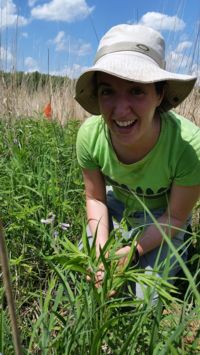 Hairy beardtongue, long-headed coneflower, and slender mountain mint (see above) are just three of the many native plant species that have disappeared from Kalamazoo County, Mich., since the late 1890s, according to Meredith Zettlemoyer, a doctoral candidate in the MSU College of Natural Science's Department of Plant Biology and a member of evolutionary ecologist Jennifer Lau's lab at the Kellogg Biological Station (KBS).
In a recent article published in the American Journal of Botany, Zettlemoyer explains how she combined historical investigations and field work to study extinction in vulnerable plant species.
Zettlemoyer's work began at the outset of her graduate studies when her advisor, Jennifer Lau, an assistant professor and KBS adjunct now based at Indiana University in Bloomington, introduced her to two data sets listing the plant species identified in Kalamazoo County. The first had been compiled between 1890 to 1940 by Clarence and Florence Hanes, the second in the 1990s by Duane McKenna, then an undergraduate at Western Michigan University. The Kalamazoo data set, created by Zettlemoyer combining the two lists, contains approximately 1,200 different species.
"These data sets are a treasure trove of information," Zettlemoyer said, "but no one has gone through them since Duane's survey in the 1990s."
In combining the two lists, Zettlemoyer noted that 43 species have disappeared from Kalamazoo Country since the early- to late-20th century.
"The question was not only whether certain species had gone extinct," Zettlemoyer explained, "but whether there were distinct characteristics of these flora that contributed to their vulnerability. Because species traits and characteristics have emerged as a valuable framework for predicting responses to global change, I examined whether specific characteristics, such as habitat or rarity or phylogenetic relatedness (that is, a common ancestry) could explain local species' loss across the county."
Zettlemoyer found that prairie species, that is, flora occupying threatened prairie habitat, which was rare in Michigan even in the Hanes' time, experienced high rates of loss. Because prairie is generally flat and fertile, it is considered prime land for agricultural development, leading to high rates of habitat loss. Although four percent of all flora species in Kalamazoo have disappeared since the 1940s, 12 percent of all prairie species in this same county have gone extinct.
Additionally, regionally rare species and habitat specialists—defined as species found in just one or two habitats and species found at the edge of their native range—were extremely vulnerable and more likely to become locally extinct than more common and generalist prairie species. Plants that grow as vines and forbs also tend to have higher extinction rates than grassy plants (graminoids) and woody species.
"In completing this part of my project, I got to be an historian," Zettlemoyer said. "I've learned how much historical data is available that we botanists don't always use extensively but using such resources can help us. Combining information and data from the past with field work provides plant scientists, particularly those studying extinction, with the opportunity to follow habitat and species' changes that can't otherwise be fully known."
While this research illustrates the value of historical data in understanding and potentially predicting biodiversity loss, Zettlemoyer's work with this information hasn't ended.
Once it was determined which species were most vulnerable to extinction in Kalamazoo County, Zettlemoyer sourced seed from nurseries in areas where these flora still thrive and seeded them into experimental prairie sites in Kalamazoo, where she is exploring the reasons behind their disappearance more fully, using thee experimental sites at KBS and around Kalamazoo County to test the effects of nitrogen fertilization, rising temperatures and increased deer herbivory on these species. This area of her work will continue for at least the next 18 months.
Banner image: Three extinct prairie species in Kalamazoo County (left to right): Penstemon hirsutus (hairy beardtongue), Ratibida columnifera (long-headed coneflower) and Pycnanthemum tenuifolium (slender mountain mint). Photo courtesy of Lau lab.
Share this story