Thomas Sharkey named American Society of Plant Biologists Pioneer Member
Release Date: Feb 28, 2022
Michigan State University plant biochemist Thomas D. Sharkey was recently named a Pioneer Member of the American Society of Plant Biologists (ASPB), a recognition given to leaders in the society, especially those who have been involved in training graduate students, postdocs and visiting professors.
The Pioneer Membership is given to ASPB members whose former graduate students, postdocs and colleagues raise $5,000 in their name.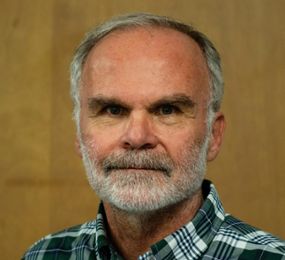 Sharkey, a University Distinguished Professor in the Department of Biochemistry and Molecular Biology and the MSU-DOE Plant Research Laboratory (PRL) in the MSU College of Natural Science, had no idea his former and current mentees were organizing the donation. When he got the notification, he was taken completely by surprise.
"I was deeply touched by some of the testimonials people wrote and the number of people that were involved," said Sharkey, who is also a Molecular Plant Sciences Graduate Program faculty member and interim director of the Plant Resilience Institute. "Being a professor at a university is different from being at a research facility because we are not only supposed to do research; we are also expected to train those working in our labs.
"Those things aren't always compatible, so sometimes your research will be a little slower because you're working with people who are just learning the trade," he continued. "I've always tried to accept that graciously and keep the people and their career development a big part of my focus, and to have so many people say exactly that was deeply gratifying."
"Tom Sharkey has been a pioneer in the science of photosynthesis, and he has done extensive service for ASPB and beyond," said Christoph Benning, PRL director. "His mentees, colleagues and friends have now recognized him by elevating him to become an ASPB Pioneer Member. On behalf of all at the PRL, I would like to congratulate him on this honor."
Over the decades Sharkey has been working in the plant sciences, he has mentored dozens of people who have gone on to do groundbreaking work in the field.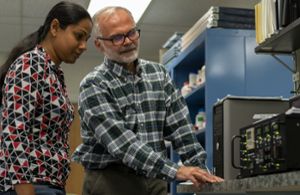 "Professor Sharkey has been an extraordinary mentor and advisor to me throughout the past years," said Sarathi Weraduwage, research assistant professor in the Sharkey lab. "Since joining his lab in December 2013, I have had the privilege of doing research with him on photosynthesis and isoprene. l am always inspired by how he approaches scientific questions with so much curiosity, enthusiasm and fascination. I am very grateful to Dr. Sharkey for providing me with many opportunities to do collaborative research both within and outside the PRL, and for giving me his fullest support to carry out departmental service and outreach work. His mentorship, support and guidance are what helped me grow to be the scientist I am today."
Yan Lu, a former Ph.D. student in Sharkey's lab at the University of Madison-Wisconsin who is now an associate professor in the Department of Biological Sciences at Western Michigan University added: "Professor Sharkey has profoundly influenced the careers of his protégés, including me. I learned many things from him, including how to do research, how to write and most importantly, how to be a mentor myself! He always puts his students' interests and careers ahead of his own and is well-deserving of this ASPB Pioneer recognition."
Sharkey joined ASPB in 1975 when he was a technician in Klaus Raschke's lab.
"The ASPB national meetings have always been a place to meet others in the field, learn what they are doing and to ask people their advice," Sharkey said. "I find that to be the most important thing: The connections to others in the field or in related fields."
To learn more about Sharkey's career and time as a member of ASPB, visit https://aspb.org/wp-content/uploads/2020/03/Legacy-Society-Founding-Members-Tom-Sharkey.pdf.
Banner image: MSU plant biochemist Thomas D. Sharkey was recently named a Pioneer Member of the American Society of Plant Biologists (ASPB), a recognition given to leaders in the society, especially those who have been involved in training graduate students, postdocs and visiting professors. Credit: pixpoetry/Unsplash License